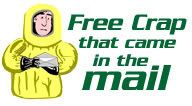 All you publicists out there have been lax in sending me meaningless free stuff to blog about, but this makes up for it. A package that's, what, five feet tall?
What could possibly be inside?
A "Ghost in the Shell" Motoko Kusanagi inflatable love doll?
A coat rack?
Samurai swords?
Iron Man?
After the jump, see what delight(s) lurked within the giant box…

]
IT'S A MOP!!!!!
Technically, the O-Cedar Pro Scrub sponge roller. But the word "mop" works fine.
And here I thought I was going to be without a gift for our receptionist on "Administrative Professionals Day." Now she has a nice present that will help her clean up after me. The gift that keeps on giving.