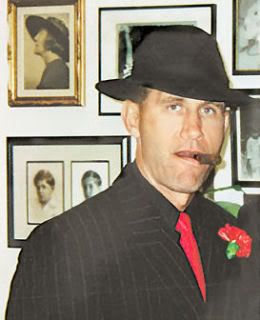 While Jeffrey Rawitz—a high-powered Jones Day defense lawyer for indicted ex-Sheriff Mike Carona—spent the day repeatedly asking already (repeatedly) asked and answered questions of Don Haidl, the government's resilient key witness, a back-row juror I've nicknamed "Sam Drucker" (a character on the 1960s TV show Petticoat Junction) fell asleep. For nearly 15 minutes, Drucker's eyes shut tight, his mouth hung opened wide, and his head leaned and bobbed toward his right shoulder. I'd considered entering into a friendly wager with my benchmate Rachanee Srisavasdi of the Orange County Register on whether or not he'd actually drool.
And then . . . BAM!
Drucker's ear touched his shoulder, his head jerked upright and his eyes opened. The look on his face confirmed his realization that, yes, he was still in hell: a Rawitz cross-examination.
I wish I could report that Drucker had missed something important, but he hadn't. Rawitz, over-employing a ham-fisted tactic, wanted the jury in Carona's corruption trial to understand—no, to really, really, really, really, really understand—that Haidl, a wealthy businessman, kept no records of the bribes he says he paid to Carona (pictured) to gain influence at the Orange County Sheriff's Department.
Rawitz demanded to know: Other than you, the sheriff and Assistant Sheriff George Jaramillo, who witnessed you hand over monthly envelopes containing $2,000 in cash bribes?
"It was always done when nobody's around," replied Haidl, who—though unqualified—was named second in command of California's second largest police agency in 1999; he says he gave Carona cash, expensive gifts, free custom-made suits, free meals, free booze, free casino chips, free hotel rooms, stock tips, sent $65,000 to the sheriff's top mistress, secretly paid for full-time campaign employees, funded a plane pilot's harassment of a rival, free use of a yacht for Carona's sexual affairs and—oh, it's good to be OC's top cop—allowed secret access to his luxurious private jets that ferried Carona and his numerous women to vacation destinations!
Rawitz then demanded to know: Where are your records of the cash bribes?
Haidl said, "There was no situation where I wrote [in my records], 'Mike Carona—bribe,' sir."
Rawitz re-asked the question.
"You are trying to tie a document to $100 bills," said Haidl. "It's impossible."
Rawitz re-asked the question.
"The whole point was not to have a trail—to make it untraceable."
Rawitz re-asked the question.
"The whole point was not to correlate the [cash bribe payments] to Mike Carona."
Rawitz re-asked the question.
"I'm not trying to be rude sir. But I've answered your question five times."
Rawitz fired back, "You may have to answer it a sixth time."
And now, ladies and gentlemen, you know why U.S. Marshals keep sharp knives out of the courtroom and far away from wrists.
(R. Scott Moxley / OC Weekly)