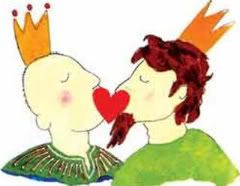 *Update: Garden Grove Unified is stricter with the book than earlier reported. See after the jump.
The proposition that was once about the state constitution and a ban on same-sex marriage has been whittled down to an argument over schools, sex education and, most entertainingly, a little children's book by a Dutch author called "King N King." In the story, a prince falls in love with another prince and they wed happily ever after. A few weeks ago, after a teacher and her princess bride were wed in San Francisco, and her students showed up to surprise her, the Prop. 8 campaign – which is seeking to amend the state constitution to ban same-sex marriage — launched a series of ads with the little book as its central lethal weapon. Television, radio and mail ads feature a Massachusetts couple who made headlines two years ago when they sued their school district because their son was read the book in class (the court ruled against them, writing: "Diversity is a hallmark of our nation"). A version of the ad featuring the book has also run in Spanish throughout the state.
If the pro-Prop. 8 camp was so desperate to make sure the subject of same-sex marriage – and more importantly, that damn little book! — was never broached in the classroom, why didn't they just draft a proposition spelling this out? Instead they have underhandedly made the unfounded assertion that same-sex marriage will be "mandated" (as my mailer stated) and forced into the classroom if Prop. 8 doesn't pass. Now we have a surreal situation where the little-gay-book-that-could is making headlines and the state superintendent is showing up on T.V. to remind parents that they have total control over the sexual health education their kids receive in school.
Locally, none of the three biggest districts in the county, Santa Ana Unified, Capistrano Unified or Garden Grove Unified carry "King N King" on their library shelves. But gladly, it doesn't seem like the anti-King N King campaign will hurt the book's chances of showing up on bookshelves in the future.
]
At Capistrano Unified, the book is not on the district's approved reading list, and has never come up for approval, according to spokesperson Julie Hatchel. The reading list is compiled by a committee and then sent to the board for approval. Teachers can bring in supplemental books, but they're encouraged to make sure they align with the district's curriculum, says Hatchel. Santa Ana doesn't carry the book either. If a teacher there wants to bring in the book to read to his or her students, the book must be approved by the school's principal, says spokesperson Angela Burrell. In Garden Grove, the tale is also absent from school bookshelves because it "is not aligned with any subject in the district's K-6 curriculum," says spokesperson Alan Trudell. According to Trudell, in Garden Grove, a teacher can't even bring the book in as supplemental material: "The book would not be used in the Garden Grove Unified School District because is not aligned with any subject in the K-6 grades curriculum. A teacher cannot stray from the adopted curriculum, and he or she must use the instructional materials that are aligned with the curriculum and approved by the state Board of Education." Each district has some established (albeit varied) protocol and they don't seem to be freaking out, so why are the Prop. 8 folks?
Lately, it seems like the campaign is spending its hard earned McMormon millions on making sure this children's book never appears on library shelves or in the classroom. The hallmarks of children's books are silliness, fun art and hopefully a lesson or two. This one isn't so different.
There's a rural teacher in Colombia who piles as many of his mostly donated books onto his two donkeys every week and trucks them out into the villages where children hungry for words gather around him when his "BiblioBurro" waddles in. Maybe he owns a copy of "King N King" in Spanish. Maybe the kids giggle over the cartoon drawing of the two princes getting married. Maybe some parents don't like it and maybe some take the opportunity to talk to their kids. I'm almost certain, though, that they won't pay millions of dollars to wipe out the book's central message: that it's okay for two people to fall in love and get married, even if they're not like you and me.