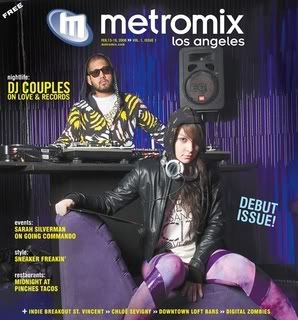 Today came the announcement of two major developments in the world of Southland journalism. One announcement is superbad and the other superfresh awesome. So which do you want first? Well, the good's so good, you'll probably forget the bad so long as you hear the good last, so here's the bad. Deep breath:
"Tribune Co., struggling with declining revenue, today said it would cut staff by 400 to 500 people companywide, or around 2% of the Chicago-based media company's workforce. At the Los Angeles Times, 100 to 150 jobs will be eliminated, 40 to 50 in the newsroom, through a combination of attrition, voluntary buyouts and, if necessary, layoffs, Publisher David D. Hiller said in an interview this morning."
This news appeared in the Los Angeles Times today, the full article can be read here.
Ok. Now that all that's out of the way, let's focus on the positive aspect. I mean, sure, the Times will have 40 or 50 less newsroom voices. But, frankly, so what if you slice away what probably equals a combined several hundred years of cultivated institutional knowledge, beat knowledge and experience like so much gristle on rump roast?
That's the "old" business model. And by "old," I really want you to imagine an old gray lady with inkstained fingers who stinks like mothballs and lurks in the woods late at night with an ax felling innocent trees while cackling the virtues of the liberal gay-loving, abortiony entitlement queens it calls "readers."
Then there's the future of journalism. Imagine a couple of sexy hipsters, a couple in love maybe. The girl is looking doe-eyed into the distance with wisp of chocolate brown hair subtly obfuscating one of her eyes. She has on a really hot looking leather biker-type jacket and purple tie-dyed nylons in lieu of pants. A big set of headphones tells you she's into music, the music of the bottomless chasm of her soul. Then there's her boyfriend. He's a bearded vaguely ethnic dude posing behind a some DJ equipment. His eyes are covered by a pair of sunglasses. He's wearing some sort of jungle print hoodie that looks like it cost $2 but probably cost a hundred.
I've seen the future of journalism, and it is called MetroMix (see photo).
]
Ok now, let's be honest: You're the twenty-something, urban millionaire taste-making, hip-hoppin' lifeblood of the Los Angeles economy. Do you really give a crap about a stodgy old person rag like the, whatever it's called? Do you want the old inky hag screaming down your neck about poor people and crap like that, or do you want freshness?!!
The very same day the layoff news comes down the pipe, the Tribune Company counterbalances with the news that its new weekly will debut in print.
MetroMix promises the "latest in pop-culture, trends and hot spots–on-the-scene news from the city's most progressive editorial taste-makers and influencers." Awesome!
The press release that came out this morning goes on to mention that:
"Our local content team is beyond in-the-know… a handy must-read for those who need to be in the know…will feature the recurring "Ask A Comic," … providing advertisers a unique platform in reaching an elusive demographic with disposable income and tremendous purchasing power."
Wow! Ask a Comic? Fucking A plus, that sounds great. And even better, the press release says the print edition will provide "teasers" to actual articles, which will be fully available online. Beam me up Scotty, I'm ready for the future! And maybe some of those fired journalists, the ones under 30 anyway, can get jobs at MetroMix. I mean, a skeleton staff of only nine "City Curators" is all they need to operate the 100,000 glossy advertisement disguised as a magazine, but they're always looking for freelancers (no steady paycheck or health insurance).