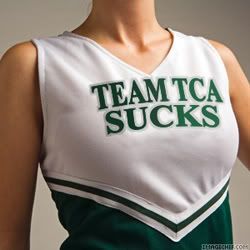 The Coastal Commission has had to change its February meeting venue to accommodate the expected 2,000-odd attendees. This is bad news for the Transportation Corridor Agencies, who already sent out an email to their contractors begging for support. The issue is the 241 (Foothill-South) toll road extension; the Governor's recent letter to the Commission in support of the project has reinvigorated both the supporters and opponents of the project. Ergo the new venue, Wyland Hall at the Del Mar Fairgrounds, which can hold up to 3,000 people. That's a whole lot of subcontractors.
From the letter to contractors:
In an effort to fill the room with supporters of the FTC-S [Foothill-South] project; the goal is to bring 250 people to the event from the Design Build team member firms; 50 of whom are willing to speak. Kleinfelder has committed to having at least fifteen people attend the meeting, with five willing to speak on the importance and value of completing the SR-241 extension.
The previous venue, the Oceanside City Hall, can hold 150 people. Kleinfelder Geotechnical Engineers is a "design sub-consultant" for Saddleback Constructors, who hold the design-build contract for the 241 extension.
]
Coastal Commission Staff Analyst Mark Delaplaine told the North County Times the meeting will now be held at Wyland Hall at the Del Mar Fairgrounds, which can accommodate 3,000. The estimate at this point is for about 2,100 attendees.
"We've never had probably more than 500 in 30 years," Delaplaine said.
"It would certainly smash all existing records."
In addition to the 250 sponsored supporters of the toll road, there will certainly be at least as much opposition. The Surfrider Foundation in particular has taken umbrage at the governor's short-sighted support of the toll road. In a recent press release, Foundation CEO Jim Moriarty said, "We had hoped that Governor Schwarzenegger was insincere in his threat to close state parks and beaches. It now appears that he is absolutely intent on sacrificing our state park system and natural resources for his political objectives."
Would there be a point, do you think, in having the Commissioners ask speakers to state whether or not they work for a company that stands to benefit from the construction of the extension?
Su update your calendars: the hearing is still on Wednesday, Feb. 6 starting at 9 am (and probably going all day), but now it will be at Wyland Hall, Del Mar Fairgrounds, 2260 Jimmy Durante Blvd., Del Mar, CA 92014