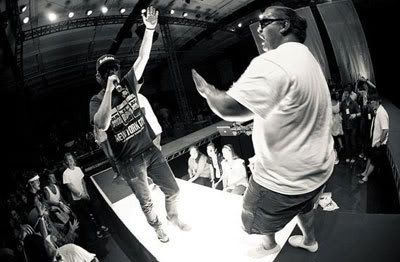 Photo by Jered Scott
Five guys, eight chins, one instant party.
Long Beach hip-hop dynamo Sparrow Love Crew radiate incredibly positive energy, lyrical choreography and witty verbiage. They own a stage like Donald Trump owns the Trump Tower. Backed by the not inaccurately dubbed "magic hands" of DJ Opi Styles, the four MCs (Devoux, Diggery, Sureflo and Mikey Brixx) diplomatically trade off verses and then chant in unison for rousing emphasis at the conclusion of nearly every bar. Beastie Boys took this steez to the bank, of course, but SLC do it with just as much infectious bonhomie and ludicrous braggadocio (it's somehow much more charming when nice, blue-collar dudes who look like E-Z Lube grease monkeys boast outrageously on the mic than some douche in a wifebeater and bandana).
Every SLC track is an ultra-hype party jam. There's no room for gloomy contemplation or dwelling on the world's problems at one of their gigs. You come to Sparrow Love Crew like you go to your cabinet for those prescription meds. You come to Sparrow Love Crew for hearing "Tabasco" rhymed with "Fidel Castro." You come to Sparrow Love Crew to see a man of Brobdingnagian dimensions bounce onstage like a rabbit on meth… while rocking pink sunglasses.
On one cut with an Ed Banger-ish, distorted, filthy synth riff and punishing funk beats, SLC repeatedly shout "We get up/You get down," and this is the most succinct and right-on self-evaluation I can imagine for this beefy bunch.
Sparrow Love Crew play every Monday night in January at Detroit Bar. Go, and wave goodbye to your post-holiday blues.