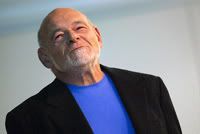 Sniff, Sniff, ohh America, you smell like lilacs and tenderness.
Billionaire private equity mogul and, since last year, chairman and chief executive of Los Angeles Times parent company Tribune Co. is an unabashed patriot.
He loves America, mmm hmm, yes he does. He wants to stick his face right in America and smell its purple mountain's majesty. And he especially loves a bald eagle. Also, he apparently shares this love of country with his some of his closest friends. According to a post on LA Observed Blog today, Zell shared some of his feelings on what true Americans like while visiting the Orange County plant.
While defending his decision to allow strip club ads in the back of the LA Times, (wait, strip club ads, doesn't that mean they are no longer a credible news source?), Zell reportedly said something along these lines, "Some of my best friends go to gentlemen's clubs. Everyone likes pussy. It's un-American not to like pussy."
Spoken like Thomas Jefferson could only have imagined. And, as we all know, good ol' Thomas J. didn't just like pussy, he loved it!