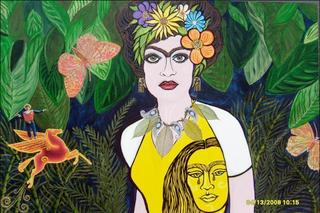 Picture This Gallery's "Frida Kahlo Art Exhibit"
Everything about Frida Kahlo was wild and colorful. She lived an amazing, romantic, tragicomic life, her art was full of rich, surreal yet deeply personal symbolism and she was an arresting image in her own right, with that pretty face spiced up with a unibrow and a daring little moustache. Every year the good folks at Long Beach's PICTURE THIS Gallery N Custom Framing present a group show of art about Kahlo, and every year the show gets more crowded, noisy and peculiar. Really, what could be more appropriate for Frida?
The show offers many different looks at Kahlo – and they don't come much more different than Jacque Forsher's "Frida Went to Dallas." Forsher reimagines Frida as a kind of big, Texan drag queen, an androgynous amazon in a lemonade yellow dress, surrounded by twinkling butterflies while a tiny cowboy soars by on the back of the old Mobil Gas Pegasus. The show is full of worthy entries, but this one is particularly striking because it's so hard to decode. A cowboy on a Mobil Gas Pegasus? It's the kind of eccentric little detail Kahlo probably would've loved. And we're guessing she would've rocked that necklace of transparent leaves, too.
La Virgen Exhibit @ Picture This Gallery
4130 Norse Way
Long Beach, CA 90808
Tuesday – Friday Noon – 6 p.m., Saturdays 10 a.m. – 4 p.m.
562.425.4861