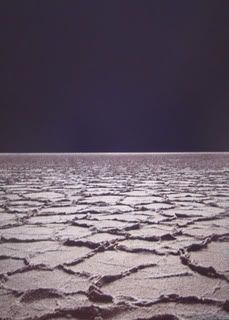 The Muckenthaler Cultural Center's "PhotOC"
The Muckenthaler Cultural Center's photography exhibit "PhotOC" is full of worthy work… But I'll admit that I tend to take photography for granted as an art form. Sure, amazing things can be done with photography, but painting and sculpting feel like hard work, while any bozo can get lucky and take an amazing photo. I ain't saying it's a fair prejudice, but there it is.
And then I encounter a photo like Joey Lehman Morris's "Black Mountain Detachment: Two Nights, From Waxing to Fully Stated," and even I have to admit that this is art, as complex and compelling as an painting or sculpture. The piece plays some Escher-like mind games. It's like a window peering out onto a lunar landscape, with the rough, wonderfully specific texture of the ground fissures gradually receding into a gray mass, giving the scene a lot of depth. But the piece is propped up against the wall at an angle, compromising the window-like quality and reducing this very 3D image to two dimensions… Only, by being propped up at an angle, the image is lurching out into the gallery space in an awkward, unexpected way. It's conceptually vertiginous. Don't get too close to this thing or you may get sucked in and wind up trapped between dimensions.
PhotOC @ the Muckenthaler Cultural Center
1201 W Malvern Ave
Fullerton, California 92833
Wednesday-Sunday, Noon to 4 p.m.
714.738.6595