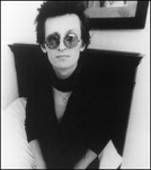 Klaus Dinger—the drummer who generated the motorik rhythm for Kraftwerk (first album only), Neu!, La Düsseldorf and La! Neu?—died of heart failure March 21, although news of his passing only hit the media yesterday. He was 61.
Dinger had a reputation as a wild character and a punk before the term took on its most popular meaning in 1976, but his drumming was marked by a machine-like precision and fluid power. The German percussionist's style was emulated by many drummers, including those with the groups Stereolab, Broadcast, Fujiya N Miyagi, the Lilys, 120 Days, Th' Faith Healers and scores more—plus David Bowie. You could fill Coachella's lineup with all the bands that have used the motorik beat at some point in their existences. (Note that Dinger himself dubbed the beat "Apache," and that Mo Tucker's metronomic style on the Velvet Underground's "Foggy Notion" kinda sorta foreshadows motorik.)
Neu!'s immortal first three albums—Neu!, Neu! 2 and Neu! '75—received the reissue treatment in 2001 by Grönland (Astralwerks in the US) and are crucial components in any savvy listener's collection. On these works' most archetypal songs ("Für Immer," "Hallogallo," "E-Musik," "Isi"), Dinger's propulsive rhythms locked in with Michael Rother's pastoral, trance-inducing guitar motifs to create the feeling of blissful perpetual motion, the illusion of aerodynamic velocity that could inspire Olympian feats. By contrast, tracks like "Lila Engel," "Hero," "After Eight" and "Negativland" possess a foreboding heaviness that hinted at later avant-rockers like Pere Ubu, Chrome, Sonic Youth and Black Dice.
No less a personage than Brian Eno praised Dinger for conceiving one of the three greatest rhythms of the 1970s (a particularly strong decade for rhythm), along with Fela Kuti's Afrobeat and James Brown's funk. That's illustrious company, and for as long as people have legs and wheels, Dinger's motorik beat will continue to move humans onward and upward with utmost efficiency and grace.
Neu!- "Hero" (Klaus sings and plays guitar on this track)
Neu!- "Negativland"