Jim "Poorman" Trenton, local "celebrity" and self-described "most fired man in show business" (see "Enter Poorman," Nov. 8, and "Exit Poorman," Jan. 3] is once again caught up in controversy after his May 16 third-annual Bikini Mile at Hollywood Park Race Track and Casino in Inglewood.
The event, which featured 16 strippers jiggling down the horse track in bikinis, seemed to have offended some of the top brass at the famous horse-racing and gambling venue because of it's "lewdness," says Marketing Promotions Manager George Ortuzar.
According to Ortuzar, the managers who okayed Poorman's event—which was taped for his late-night syndicated television program, Poorman's Bikini Beach—thought the women running in the race were "wholesome," "girls-next-door" types, not exotic dancers from Deja Vu in Los Angeles and Larry Flynt's Hustler Club in Westminster, as was the case.

]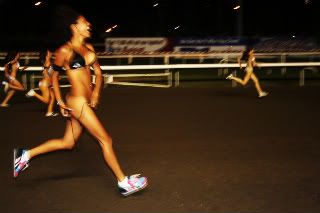 That fact, plus a wardrobe malfunction for one competitor (pictured here) and a sultry dance by another (which Trenton describes as "humping the ground") made Hollywood Park managers flip out, Ortuzar says.
"They thought it was going to be regular girls because that's what it has been in previous years," he says. "There are families here, and there were children in the audience. We just wanted a race, not anything lewd."
Poorman says his choice to use the strippers was more of a financial decision than an aesthetic one. Having the two strip clubs as sponsors increased his bottom line.
But any extra financial benefit he got from those sponsors came at the expense of others, he says. Once the managers of Hollywood Park found out about his scheme, they refused to hang banners for his other sponsors, costing him thousands of dollars. In addition, he says, he was told track officials ordered all of the camera footage erased immediately following the race, excluding one overhead camera, the footage from which was released to him.
Trenton, who says he told the park exactly who his sponsors were and even brought the girls by a few days previous to the event, is going to demand repayment for the money he lost; if denied, he may file a lawsuit, he says.
Ortuzar says he's not sure if Poorman will be invited back next year—if there even is a next year at Hollywood Park. In 2005, a development firm called Stockbridge Real Estate Fund purchased the 70-year-old race track and casino. Ortuzar says the track is long past its heyday; it has been losing customers to Indian casinos for years; many are speculating Stockbridge could choose to tear it down. When the company made the purchase, it promised employees their jobs were guaranteed for only three years—a timeline that expires after this race season.
Photo courtesy of the Poorman.