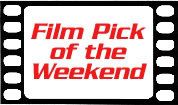 Twofold pick this week.
If you're not yet caught up on the Oscar nominees for Best Picture, then the AMC quintuple-feature of all of them is the best deal in town, tomorrow at 11 a.m., at The Block in Orange as well as a couple of other area multiplexes. Thirty bucks, with in-and-out privileges, and all-you-can-eat popcorn. I may have mixed feelings on the merits, overstated or otherwise, of some of these films, but all are ultimately worth seeing.
If that bores you, then I recommend THE SIGNAL. I'm not going to give a full review here, as the version I've seen was a festival version that has since been recut, though judging by the reviews I've read, one of my most nagging issues with the film — an intro that appears to bear no relation to the rest of the story — has been fixed and fully integrated. I'm glad to hear it, because even with that nit-pick, the movie was without a doubt one of the best I saw last year, and the first strong contender this year for any future best-of list.
Directed by three different people, THE SIGNAL is more cohesive than you'd expect. The premise is simple: All televisions, monitors, computers, etc. start broadcasting a hypnotic signal that brings out the craziest, most homicidal side of anyone who watches it. Some people show the signs more overtly than others, and the mid-section of the film, veers into very dark comedy as a particular group's derangement manifests itself in a bizarre forced normality, proceeding with a dinner party even as the world ends outside.
It's hard to go into more detail since it's been a while since I've seen it. But I can't wait to see it again. Nor should you.