Review by Marco Villalobos. Photos by Christopher Victorio.
The 27th Annual Ragga Muffins Festival
Long Beach Convention Center
February 16 2008
Better Than: A six-pack of Red Stripe.
Download: Capleton and Beenie man videos.
Let us take a moment to bow our heads in respect to the wonders of the large capacity concert hall…
Praise be to plastic cups of 12-dollar Heineken. Praise be to latecomers buying box office tickets one minute and then being turned away from the gate a minute later accused of having bogus tickets. But most of all, let us praise the security guard who snapped at me for arriving late and trying to enter through the exit door which she swiftly closed in my face without so much as looking me in the eye.
I'd like to offer her bad perm and orthopedic walkabouts my utmost respect for lasting as long as she did, ensuring the safety of all Rasta revelers, for having been tethered to the Convention Center all of Saturday dealing with Bob Marley-loving frat boys, ganja enthusiasts, and the bubbling bass boom of ragamuffin champion sound.
]
Past the gangs of security and staff, past the clone vendors hawking motherland striped knit caps and Lion of Judah Ethiopian flags, past the first line of spilt cups and littered straws into the throng of nodding heads, notice the screen floating above the stage.
Capleton's face is broadcast in full detail: his locks wrapped in a stack above his furrowed brow, his eyes shut as he switches between high notes one moment and his natural gravel texture the next, achieving his signature furious vocal style. One leg resting on a monitor at the stage's edge, he rallied verse after verse, pausing to explain the Rasta lexicon one bit at a time: Babylon says Dedication, Rasta reflects Livication; Babylon says Understand, Rasta must Overstand.
Capleton
Capleton launched into song after song often only to wave his hands, yelling until the drummer broke the beat into pieces and the band's sound shattered to nothing but Capleton's voice once more rallying the crowd and launching into song.
After a fifteen-minute break, the undisputed King of the Dancehall was introduced. Beenie Man strutted quickly onstage, his posture perfect, his shoes white, and his three-piece red suit impeccable. Beenie stayed a step ahead of the band as they broke into a frenzied medley of hits. As fast as they rolled through the play list, Beenie always found space to break into dance and throw a sly grin out at the audience.
Beenie Man
Not satisfied to provide a brief history of dancehall dynamite, Beenie also offered sexual advice complete with demonstrations. Foreplay, penetration style, and maximum stroke technique—he left no curiosity unaddressed, earning himself a new title: the Dr. Ruth of the Dancehall. And again, he was off into musical melee, covering standards so fast that they bordered on unrecognizable.
And so it was that without a single drink of water, for about 60 minutes straight, Beenie Man proved himself a live wire lightning rod or a man, pumping adrenaline and feeding off of the beat. Not until the final number, a melodically sweet acapella, did he permit himself a relaxing moment. And then he vanished. The house lights came up and the convention center's murmur came creeping back.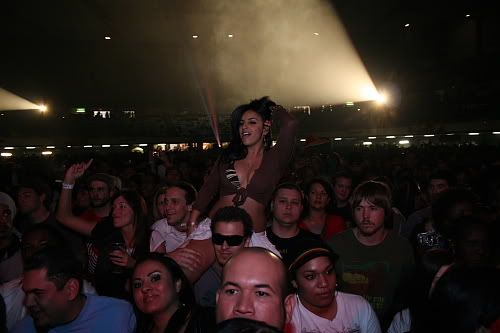 Critic's Notebook:
Personal Bias: White shoes—it's called Pizzazz.
Random Detail: In 2005 Capleton was barred from some French venues for what gay activists sited as homophobic lyrics. Two years later, Capleton, along with Beenie Man, signed the Reggae Compassion Act, pledging to "uphold the rights of all individuals to live without fear of hatred and violence due to their religion, sexual orientation, race, ethnicity or gender."
By the way: Last Year's headliner, Eek-a-mouse, will be performing with Pato Banton at the Vault 350, March 6.

Slideshows: Day 1, Day 2.