Review, video and photos by Patrick Chavis.
Ludacris, Pacific Division
Walter Pyramid, Cal State University Long Beach
February 23, 2008
A night of protests, hos and intellectual conversation in the LBC: isn't that what hip-hop's all about?
The opening act—Pacific Division from Palmdale, California—have created a large MySpace buzz. The hip-hop trio were humble and when they weren't talking about music, they talked about their old jobs working to make it big in a town they wanted to escape. When asked what their music sounds like, Mibbs replied, "It sounds like microwave burritos and dirty carpets." You can hear their music at www.myspace.com/pacificdivision.
Before Ludacris even appeared, the DJ played an old Snoop Dog record to represent Long Beach, and asked the crowd if the song offended any of the protesters standing outside.

]
Designated to the right of the blue pyramid, the protesters were hindered by a white fence called the "free speech zone." It seemed more intended to keep the protesters away from the "paying customers zone," but you can decide for yourself.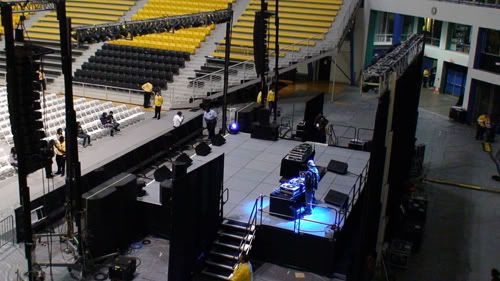 Backed by Atlanta MC Lil Fate, Ludacris opened the concert with "Number One Spot" from The Red Light District , as the aroma of relish, hot dogs and weed filled the air. Ludacris catered to the ladies the duration of the show and covered songs seemingly geared to please the girls, like "Fabulous" by Fergie. To show good will toward the protesters, Ludacris dedicated one of his trademark songs, "Get out the Way," to them.
In an interview before the show, Ludacris argued that hip-hop is often misunderstood because it's a different language that many people don't understand. He discussed his use of the word "ho" and how he used it to liberate women by using it in the context of males as well as females.
As for his rapping, Luda didn't miss a beat, weaving seamlessly through each track with the sort of swagger and storytelling prowess on which he made his rep.
Near the end of the show, when the rain dampened the protest groups' efforts, they explained that they weren't there to protest against Ludacris, but rather to spread the word against his misogynistic lyrics, which they believe objectify women and help increase the rate of human trafficking in the world.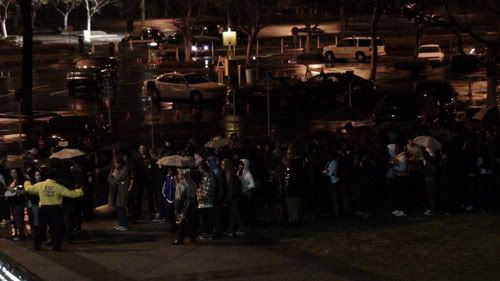 The show brought back memories of my sophomore year of high school, when the song "Get Out the Way" had just come out. It was so catchy I couldn't get it out of my head and for the next two hours. You can hate Luda's lyrics, but there's no denying his ability to create memorable tracks, which he thoroughly proved Saturday at Walter Pyramid.
See Video: