Review by Jeff Phifer. Photos by Fever Dragon.

First there was the Rock and Roll Circus (Cirque du Rock and Roll), then there was the Circus of the Sun (Cirque du Soleil) and now there is the Circus of the Moon (Cirque du Lune) a.k.a. "Lets Be Friends" at The Vault 350.
The bands on the bill were local and well used to playing in small, darkly lit dive bar venues. Yet on Saturday they planted their sneakers on a stage fit for The Wailers, Boz Scags, Chris Isaac and Death by Stereo. Performing at the Vault is good exposure for local startups, and being plugged in to one of the best sound systems in Long Beach made the night all the more gratifying for all involved.
"Let's Be Friends" was created to eliminate the degrees of separation, with local bands and old friends coming together to put on a show that was bigger than themselves.

]
Every band that played got people moving with steady, danceable beats. Call Sick on Friday's Mashed Potatoes kept the crowd on their feet between bands with a captivating mix of old and new school beats.
Look Daggers initiated the soon-to-be-ritual with an unusually stripped down representation of themselves. Infamous keys player Ikey Owens and the equally dubious female parts of the band did not perform. Instead, a more streamlined form of the band played. This raw form seemed to fit well with their style and gave them a hard Cypress Hill sort of sound. The guitar player from Mister Mister Myagi subbed for lead guitar and keys and was successful in pulling a rabbit out of his bag of tricks.
Having recently expanded their territory to Los Angeles and playing a recent residency at Club Moscow, Repeater furthered their roam from the small local scene to the big local scene at the Vault with a powerful set. Judging by the reaction of the crowd, they left no one disappointed.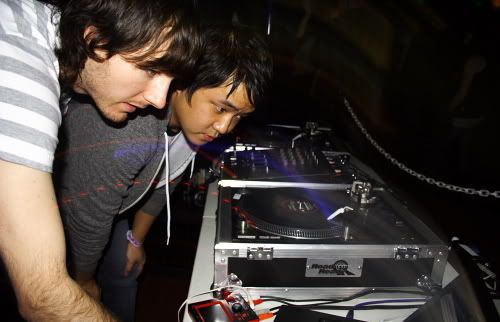 After the Mashed Potatoes and the first three bands warmed the crowd to the Indie Long Beach sound, On Blast received a warm welcome from the patrons for their late night ranger of a set. By the time they took to the stage, the crowd was nicely primed for a well-thought-out powerhouse of a band that closed the night gracefully.
See more photos from "Let's Be Friends" here.