Third world logic stormed UC Irvine last night as former Native Gun rapper Bambu took the stage, promoting his newest CD, "I-Scream for the Children." As a Pinoy born and raised on the streets of Watts, Bambu's rhymes and perspective come from a place few people outside Manila or Downtown Los Angeles can really comprehend.
Taggers and art were the main attractions outside UCI's student center terrace. Jive, from the the OL crew, was busy with a mural of a person getting decapitated by the letters J-I-V-E. When I asked him what it meant, he said: "He just got his head cut off because he's actually committing suicide. . .but before he left, he made his peace known to the world and that's his peace."
Jive has been tagging for about a year and a half. Letters, he said, intrigue him.
"I'll even go to bed and I'll dream (about) how letters correlate and connect how they can sway together, art seems a little boring, but letters, they're so dynamic," he said.
]
When I got inside, a group from Long Beach and Downtown LA called the Fighting Cocks was onstage. Their sound was reggae with a hip-hop twist, lead by vocalist Johneric Concordia. The band name, he said, hailed from the Filipino culture.
"In our culture, we love a good fight: if it's boxing with Manny Pacquiao or Poncho Villa back in the day. We love a good fight especially when it's a fight for our freedom."
In the Fighting Cocks' last song, "Do You Want To Know," Concordia talks about his life in Echo Park. He weaves a yarn around the issue of gun violence in LA and how it's become a vicious cycle of death for both sides. As one person's life is lost, the other one who goes to jail also loses his life = a no-win scenario for either party, Concordia said.
After a quick intermission, Rhythm Natives – a tag team of four emcees from Glendale –
performed, backed by a guitar, drums and bass. In a blue hood with a white "LA" patch on his chest, Alan Munoz released a fast pace rap style that I've only heard from rap veterans half his age. The band backed them nicely, proving you don't need turntables to make hip-hop: just drums and someone that has something to say.
Bambu then came on and started the show with the title song from his latest album, "I-Scream for the Children." The crowd was excited and responded as if the song wasn't his but everyone's in the room. He went through, his song list and let his opinion be heard about cops, the ghetto and George Bush. Dj Phatrick (Bambu's DJ) kept the crowd entertained between the sets making sure that every beat was rhyme worthy.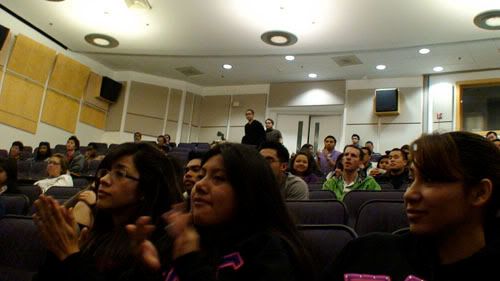 Afterward there was a dance off between rival dance crews Curry Kings, Suicide Kings, Alma Mater and Funky People. I never found out who won, but the dancing was intense.
Kababayan and other Filipino organizations at UCI put on the event.