The Vandelles, LSD and the Search for God, Stevenson Ranch Davidians
January 12, 2008
The Prospector
Better Than: Staring at your shoes while listening to Jesus and Mary Chain's Darklands.
Download: "Swell to Heaven" by the Vandelles.
The most striking thing about Stevenson Ranch Davidians is their female bassist: she plays sitting down and uses her bare feet to press pedals on her Hammond Midi Pedalboard. Otherwise, this SoCal quartet's psych-pop shoegazery stays stuck in a laggard tempo all set. The songs—mostly morose, introverted jangle-philia—nod (off) to Spacemen 3 and Spiritualized, but lack dynamics. The music is pleasant enough standard-issue shoegaze with aspirations to hypnotize, but the band members have zero stage presence and ultimately their set forced me to order a Red Bull to fight their lulling effect.
With a name like LSD and the Search for God, you better be awesome. LSD and the Search for God were not awesome. The San Francisco quintet had enough effects pedals and boxes to supply the entire 1980s Creation Records roster. You could sense they were striving for a lavish, My Bloody Valentine-esque wall of sound. Unfortunately, LSD are devoid of MBV's innovation, otherworldliness and indelible tunesmithery. Don't get me wrong: LSD craft understatedly pretty melodies and their tranquil, crystalline psych pop will mellow your soul. But there's something hazy and dozy about their sound that keeps it from levitating very high off the ground. And that name promises way more than the band can actually deliver. Pity.
]
Brooklyn foursome the Vandelles didn't go on till 1:10 a.m. but, luckily for the troopers in the audience, they injected some much-needed energy into the Prospector (although props must be given to DJs' Billgazer and Short Shorts for their excellent psych and shoegaze selections between live sets). The Vandelles' primal garage-psych squall and thump pumped up the punters with echoes of Jesus and Mary Chain, Brian Jonestown Massacre and a handful of Nuggets one-hit wonders.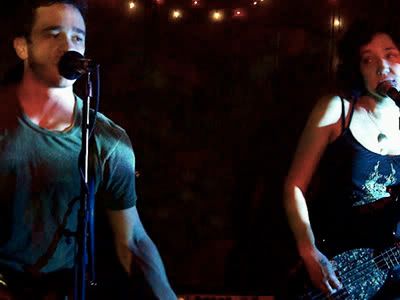 Toward the end of their set, the Vandelles ran roughshod over the Beach Boys' "Surfin' USA" and Spacemen 3's "Losing Touch with My Mind," the latter of which was topped off with gnarly feedback. They drew the heartiest applause of the night, but my favorite musical moment occurred when DJ Short Shorts played an amazing track by the Cryan' Shames off their A Scratch in the Sky LP. A huntin' I will go for that.
Critic's Notebook
Personal Bias: I was deeply, tragically into shoegazer rock when it first appeared in the late '80s/early '90s.
Random Detail: Man Ray's 1926 film Emak-Bakia was playing on the screen above the stage. It meshed well with the red, yellow and white lava-lamp globules projected on the same screen.
By The Way: After the show, ex-OC Weekly music editor Chris Ziegler said that he, Weekly calendar editor Tom Child and I should start a band. "Do you play anything?" Ziegler asked me. "Records," I replied. "Okay, you can sing," he said with drunken logic. Why is this hysterical? Because I make the late Lee Hazlewood sound like the even later Luciano Pavarotti.
Photos by Leslie Agan. Click here for a slideshow.