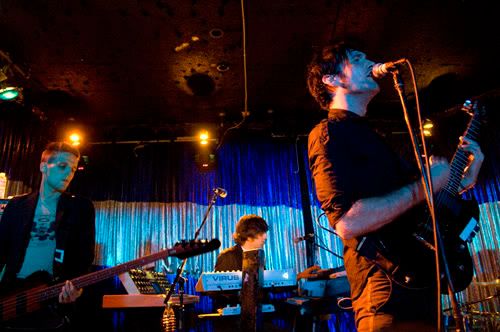 Review by Andrew Youssef
The Bravery, Wild Sweet Orange and The Dead Trees at Spaceland
March 18, 2008
Better Than: Seeing the actual Wyld Stallons from Bill and Ted's Excellent Adventure since the secret show was billed as such.
Download: "Believe" from their Myspace page.
Fresh off an appearance on the Tonight Show with Jay Leno, The Bravery stopped by Spaceland for a secret show to a capacity crowd of 260 diehard fans. The Bravery is touring behind their recently released album "The Sun and The Moon Complete" which is their sophomore album with a bonus disc of songs remixed by the band.
The Dead Trees from Portland, Oregon (pictured beneath the fold) got the crowd warmed up with their straightforward indie rock set. I enjoyed their song "Loretta" as it stylistically evoked the Rolling Stones and Jimi Hendrix. The guitarist also unloaded a searing guitar solo with a metal slide, which always gets points in my book.
]
Wild Sweet Orange from Birmingham, Alabama managed to evade any requests for "Sweet Home Alabama" as they played a set that fell somewhere in between Wilco and Pink Floyd. Taylor Shaw had a small army of guitar pedals that he was tap dancing on to create a variety of tonal colors. "Wrestle with God" was an up-tempo number that had the band members engrossed in their instruments.
The Bravery took the stage after a seemingly lengthy set change and started with "Split Me Wide Open." I was impressed to see Sam Endicott (Vocals) play the bass effortlessly as the band rumbled through the song. The crowd started to pick up the pace when the band launched into the next track "No Brakes" as it has a propulsive bass line handed out by Mike Hindert.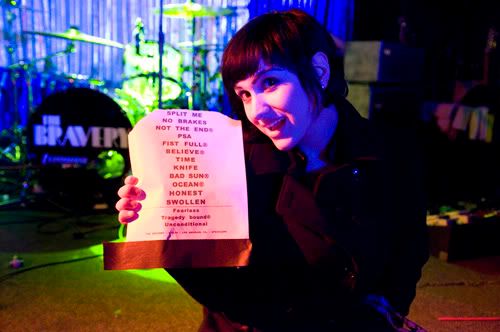 "Believe" and "Time Won't Let Me Go" were crowd favorites as I could hear a bunch of people singing along that weren't on stage. "An Honest Mistake" was triggered by John Conway (Keyboards) as he had the oscillators in his keyboard working overtime. An informal stage rush of one would join Sam on vocals for a few moments before being shuttled off the stage by the roadie. The night was capped with a dance-inciting version of "Unconditional" that had Sam writhing around to the delight of the female fans in the audience.
Critic's Notebook
Personal Bias: I have a soft spot for bands that employ keyboards and The Bravery had a lot of them on stage.
Random Detail: Some of the fans I spoke to had been waiting to get into the show since two in the afternoon.
By The Way: The Bravery will be back in Orange County for The Bamboozle Left concert on April 6 in Irvine.