Last Night: The Barber of Seville at Orange County Performing Art Center, October 22, 2008

Better Than: Vickie Chang telling me, "I think you're the only one who likes opera."

Download: "Una Voce Poco Fa"
It's hard to believe that you even got dressed up at all – especially when you turn to see what the elderly woman seated directly next to you is wearing – pajamas and slippers – smacking on a piece of gum so loud it's akin to the scratching of a chalk board.
Gotta love it.
Then you smile with pride as you immediately recognize "Largo Al Factotum" and begin snickering in your seat – picturing how Bugs Bunny played every instrument under the sun. He just happened to be interrupting a nearby opera singer, Giovanni Jones, as he painstakingly rehearsed for the night's big performance.
"Hey! This is from Looney Tunes!" my friend Jeremy whispered a bit too loudly into my ear. Yes, I know Jeremy, now settle down. He's such a child sometimes.
]
In the dimmed theater, the man in front of us threw his arm over the chair until he was nearly in my face.
"Can you be quiet?!" he snarled.
"No." I said.
"No?!" he retorted, both shocked and appalled.
"That's what I said." I smiled.
He paused, grumbled, then creaked a bit as he crumbled back into his chair.
No doubt if I had been playing a tuba (like Bugs) he would've loved to drag me through it by my ears.
Look everyone, Gioacchino Rossini's, The Barber of Seville is a comical opera – ok? So please, just lighten the fuck up! Everyone was giggling, cheering and giving their own loud predictions of what would happen next. Pleasant disruptions everywhere. When did opera become so serious? I'm sure Snarling Man was shitting himself. Choose your battles I suppose.




What's so funny? The Barber of Seville ( a very amusing Jeremy Kelly) is a suave, sweet talker – shrewd and seductive. He knows everyone in town. He cuts their hair and makes their wigs. The women simply adore him. Figaro! Figaro! Figaro! Figaro! He smiles with pride – such a rascal!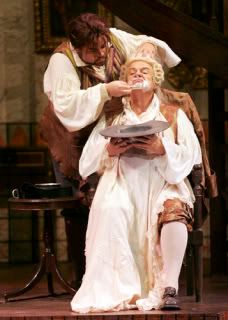 He runs into the incredibly powerful and rich, Count Almaviva ( Brian Stucki) who has been courting a lovely lady by the name of (Jennifer Rivera) Rosina. He has a heart of gold and has tried to get her to notice him – even hiring an entire band to play as he serenades her under her window. There is one problem. She is supposed to marry a old, paranoid and very controlling doctor, Dr. Bartolo (hilariously portrayed by Michael Gallup). She is in a state of – um – house arrest? Her suitor/doctor/guardian/future husband (which is a creepy circumstance already) is completely hell bent on making sure she is kept inside the house – lest she give herself to someone else. Dr. Bartolo calls on the quirky hired help to assist him in keeping Rosina indoors – the house lady, Berta (Teresa Brown) and Don Basilio (Dean Peterson) the music instructor, who enjoys eating what appears to be huge mason jars full of orange marmalade.




So how does Rosina feel about all of this? She couldn't be more willing to get the hell out of this crazy house! Jennifer Rivera truly blew the house down with her rendition of "Una Voce Poco Fa" – she was spunky, fresh and lively. Adorable. In other words – she's really into meeting this humble fellow named Lindoro. Wait, but who is Lindoro?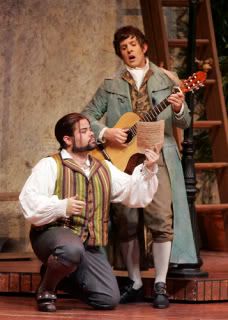 I won't give it away.

This is where Figaro the barber comes in. He and the Count devise a plan to "rescue" Rosina from the prison she finds herself in. The crazy antics that ensue are priceless, solidifying the reasons why The Barber of Seville has retained it's shimmering appeal even in our modern age.

This is not to be missed! Just three more performances: October 26, 30 and November 1.
www.operapacific.org for more details.

Critic's Notebook:
Personal Bias: Everything sounds better in Italian.
Random Detail: The singers moved the sets themselves. Recession-induced employment cuts of stage hands? Hmm. I thought it was a nice touch.
By The Way: Makes me want to watch Rabbit of Seville