By Waleed Rashidi
Savage Republic
January 12, 2008
The Press
Better than: Savage Garden fronted by Fred Savage, that's for damned sure.
Download: A live version of "Jamahiriya."
Some bands get back together because the money's too good. Others reunite simply 'cause it's supposedly the honorable thing to do after they've chucked large speaker cabinets, empty Heineken bottles and reams of copy paper at each other when they last congregated in one sweaty rehearsal room a couple decades prior.
But not Savage Republic, which returned to the album-making revelry last year with "1938," some 18 years after releasing its last record, to build upon its legendary subterranean experimental rockin'-type-thing prowess, which has often found the group comfortably nestling somewhere between the San Pedro's The Minutemen, East Coasters Mission of Burma and a host of U.K. post-punk art-niche acts. And far unlike some of these cringe-worthy newly-rekindled bands, after catching The Republic at The Press in their Claremont hometown, we're royally glad to have them back in action.
]
But let's get clear on one matter — this wasn't a reunion show, as that happened back in 2002. However, the fivesome's really been firing on all cylinders since finishing 1938. Released on the Neurot label, this new association has made Savage Republic labelmates with California underground sensations Neurosis (who run the label), plus Zeni Geva's KK Null and the angular post-hardcore act Isis. Hey, that's some cool company.
This Press show's purpose was to act as a warm-up for a two-week Euro jaunt, where the band plans to hit cities from Thessaloniki (that's in Greece and there's a good story about this one found here) to Giessen, Germany come mid-month. And while it was pleasantly warm and lush on a semi-shoegazing sonic front, it wasn't the hellfire volume that could've been, which, for this largely-seated gig in an acoustically reflective room with a tall ceiling, was probably a pretty good thing.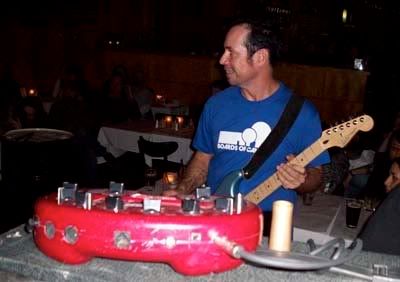 In fact, the night was all about atmosphere over sheer amplification, built upon a fertile foundation of tribal drum rudiments and hypnotic bass phrasings, courtesy of stick wielder Alan Waddington and "primary bassist" (the members of S.R. often shift instrumentation) Greg Grunke. With reverb and other effects levels set to stun, Fender Strat strings were shredded into a distorted, magnetic submission, sublimely slicing through the set's substantial ambient fog on a number of cuts, including the act's newest creations "1938," "Siam" and "Anemone." But the Republic also proved that it wasn't afraid to dip into its back catalog, aiming to please the long-timers in the crowd, some of whom had been following the band since its inception in the early '80s.
But the short-timers were equally impressed. The centerpiece of Savage Republic's setup is its large, battered oil barrel, a mainstay in the group's instrumentation, augmenting the bustling rhythmic activity in an organic proto-industrial light. A couple S.R. virgins nonetheless leaned into me at one point during the metallic cadence, mouths seemingly agape in bewilderment, as if witnessing the Roswell incident occurring in their bathtub.
"They're using one of those? Whoa."
"In all the shows I've seen, I've never seen something like that."
With Savage Republic's renegotiated lease on artistic excursions, looks like anything's possible. Hmmm, Turks and Caicos tour, 2011?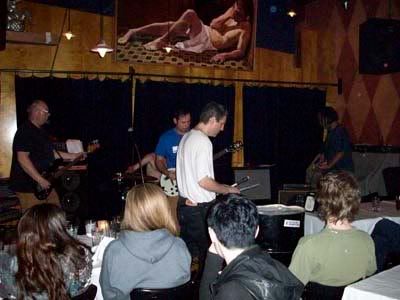 Critic's Notebook
Personal Bias: One of these dudes owes me money — I think.
Random Detail: For more than a split second vocalist Thom Fuhrmann like totally channeled the zest of D. Boon. Stellar.
By the way: If you're itching to catch them at the Hof Ter Lo in Antwerp on Jan. 26, you might want to book that flight, like pronto.