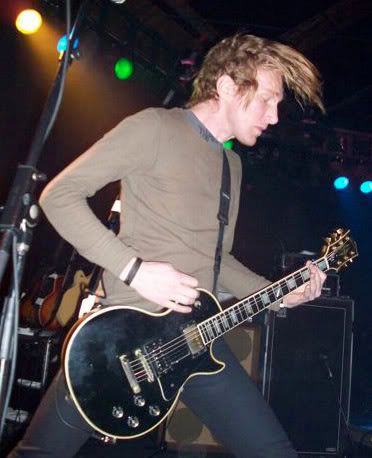 Review by Waleed Rashidi
Poison The Well, The Locust (and a bunch of openers that we missed) at The Glass House, Pomona
Wednesday, January 23, 2008
Better than: Being on the receiving end of a razor-wire enema (credit: Rich Kane, "Now We're Deef," OC Weekly, 8/31/2000)
Download: The Locust's "We Have Reached An Official Verdict: Nobody Gives A Shit."
Blame it on the moderate rain, the fact that it was hump day or the national airing of some brand-new "American Idol" audition footage, but attendance was eerily light at the Glass House for what should've been a fairly full house. After all, two veteran punk scene acts — The Locust and Poison The Well — were top-billed for the night, the rain wasn't impenetrable and it wasn't like the early show ate into many a bedtime either. Nevertheless, the barricades for a half-floor show were set in place, the balcony was closed, even the venerable snack bar wasn't feeling like dishing out its usual show fare of pizza and soda, all reaffirming the insubstantial draw.

]
To further complicate the situation, usually when a show's advertised for 6:30 at most clubs, it largely means the first band might go on around 7:30-ish, possibly even 8:00. But that's not how the trains run at the Glass House. Therefore, by walking in at 8:45, we summarily missed the first three openers (Dance Gavin Dance, Mikoto and A Girl A Gun A Ghost).
Still, something tells us that we probably weren't missing out on much, anyways.
Instead, we arrived just in time to catch the keenly uniformed members of The Locust get their gear into position. Once ready, there was no "Hello, we're The Locust. How's everybody doin' tonight?" or "We love Pomona! Thanks for coming out! Are you ready?"
All verbal bullshitting, stage banter and welcoming formalities were cast aside for a single snare slam. And then — wham! — like the hammer of a starter's gun, it was off to the races with a tinnitus-exacerbating sonic assault like none other (OK, you want "some other" instead? Throw Mary J. Blige, Slayer, a jackhammer, a pregnant yak and a top-fuel dragster in an industrial sized blender, set it to puree, and you'll know precisely what we're talking about). The burrito I had downed an hour earlier was being externally digested by the intense double-kick drumming of drummer Gabriel Serbian and a sub-sonic colonic had been involuntarily performed via the rough 'n' tumble bass playing of Justin Pearson. It all sorta hurt, but in a really satisfying, masochistic way.
Although headliner Poison The Well was a respectable act in its own right, having The Locust open for them made for a really gnarly transition of perspective. Suddenly, all that was absurdly (yet still pleasantly) musical had been exchanged for the rudimentary, easily palatable and safely acceptable. The Florida-based metallic hardcore quintet sported its toughened hardcore vocals (with occasional melodic passages), predictable half-timed breakdowns, and chunky guitar riffs with relative ease.
T'was nothing groundbreaking, but the crowd appeared satisfied, spinning the dance floor into hardcore windmills, two-steps and roundhouse kicks. Twenty-first birthdays were celebrated, microphones grabbed for shout chorus sing-a-longs and PTW delivered a set's worth of goods without incident. Too bad there was just too much open floor space for the dancing…
Critic's Notebook
Personal Bias: Serbian let me touch his snare drum — it's seriously one-of-a-kind, made for him by one of his fans and given to him a few days earlier.
Random Detail: The last time I saw The Locust was in 1999 at a 4-H Club in Rapid City, South Dakota. Now, talk about an interesting gig!
By the way: Do they sell fake lip piercing studs? I really need to fit in a bit better at these shows.