Review by Reid Sheldon
Better Than: Going to real jail or your girlfriend's friend's wedding.
Jail Weddings, the 10-piece "death doo-wop" (I bet they're going to be real tired of that tag soon) group from Los Angeles hydroplaned their way south to the Gypsy Lounge in Lake Forest last night. Led by Gabriel Hart (ex-Starvations) who, flanked by two buxom vocalists and backed by a band with all the usuals, plus a saxophonist, a violinist and a piano player, put on a show-stopping revue that included three mid-set stage exits, an impromptu rap, and two wardrobe malfunctions.

]
Beckoning the crowd forward to the front of the stage, Jail Weddings launched into the seriously floor-stomping garage rock number "The Spell Has Lifted," a song penned by Hart about his frustration with Los Angeles, Where I once saw a magic city / Was just a mirage, fooled like many before me / It was a desert before, where nothing could grow / Except that big delusion we just won't let go.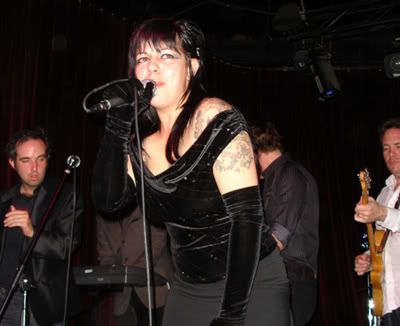 Following the third song of the set, the Orbison-esque "Somebody Lonely," Hart made his first of three awkward exits (awkward as in it didn't seem like the rest of the band knew what the hell he was doing) through the back curtain after handing lead vocal duties over to Tornado Jane and Katya Nadia Hubiak, who each took a turn at center stage. It was after Hubiak's number that the evening's first wardrobe malfunction occurred – bassist Josh Puklavetz's shoe sole came off, which sent saxophonist, Brad Caulkins into an impromptu rap while Puklavetz got himself in order.
Two or three songs later, it was during another exit from Hart that Hubiak was once again handed lead vocal duties and was at this point in the set that the night's second and far more salacious wardrobe malfunction happened, which I can best sum it up by offering the piece of advice that Hubiak might be wise to invest in a little double-stick tape. Hardly fazed by the incident and probably more perturbed that Hart hadn't returned to the stage with a beer for her, Hubiak, Hart, and Tornado Jane set off into another number that included all three contributing vocally, which is when Jail Wedding are at their best.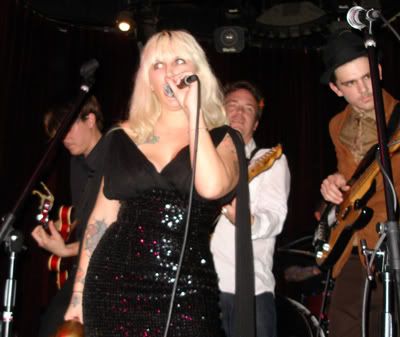 Jail Weddings ended their set with "The Honeymoon Loop", the B-side to their upcoming debut 7" inch (out late January/early February), an epic song that fools first timers into thinking the set is over when the dust beings to settle, but then rises back up again in grand testifying fashion to finish all those left standing off.
Critic's Notebook
Personal Bias: I'm into old music and movies, Jail Weddings just work for me.
Random Detail: The Gypsy Lounge looks and feels like Alex's Bar threw up on a coffee shop.
By the way: Jail Weddings play Alex's Bar February 24th with Her Grace The Duchess.