Last Night: Ink-N-Iron Festival at the Queen Mary June 1st, 2008
Better Than: Getting a tattoo from a shady parlor.
Download: The First Vietnamese War from their first album Passover.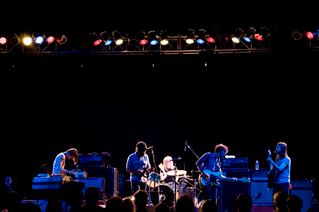 I thought I was in a hornet's nest when I heard the consistent buzz of tattoo needles as I walked into the Queen Mary. The Queen Mary had been transformed into a giant tattoo parlor with multiple floors of artists with bottles of ink at their disposal. The Ink-N-Iron festival was already in full swing.
After checking out the numerous booths with assorted vintage goods and clothing, I meandered into the Stampede Saloon to check out a stirring line-up of psychedelic influenced rock.
It is a bold step to name your band after a Velvet Underground song. The Black Angels from Austin, Texas live up to their inspiration as they turn up the psychedelic with a swirling batch of hallucinogenic tunes from their new album "Directions To See A Ghost."
"You On The Run" had sheets of fuzzed out guitars laced with a metallic drone that penetrates into your skull, and immediately transports you into another dimension. Alex Maas (Vocals) even went so far as to bust out the electric sitar to add alien tones to their dense fog of music. The maraca and tambourine hiss of "Science Killer" lulled me into a trance as the guitars whirled around me. The Black Angels fulfill the statement that music is a like a drug.
Black Rebel Motorcycle Club capped the night with a discography spanning set that included such gems as "Six Barrel Shotgun", "Love Burns" and "Weapon Of Choice". The photo pit was uncomfortably large as the gap between the band and the audience was the size of the Grand Canyon. Robert Been (Bass/Vocals) quickly remedied this problem by jumping down from the stage and removing the barricade as a sea of fans surged to the front. The energy level of the band and fans immensely improved from this point on. Black Rebel Motorcycle Club usually play a two hour set but were forced off the stage by the Fire Marshall as the hour was growing late. Rock shows become more dangerous when they are shut down by the man.
Critic's Notebook:
Personal Bias: The Black Angels scored huge points for playing an electric sitar on stage.
Random Detail: I don't have a tattoo but almost considered getting one after seeing some of the amazing artwork by some of the artists.
By The Way: The festival runs all weekend with punk stalwarts Swingin Utters closing out the festivities on Sunday.
View more photos from the event here.