The Hard Sell Tour with DJ Shadow/Cut Chemist, Kid Koala
House of Blues (Anaheim)
February 14, 2008
Better Than: Damn near every DJ set you've ever witnessed.
Download: Excerpts from the Hard Sell set.
I missed opening DJ Kid Koala's set by five minutes, but Free the Robots' Chris Alfaro said it was amazing, and I trust his word.
DJ Shadow and Cut Chemist's 105-minute performance on eight decks began with an instructional video explaining what the hell these wax hounds would be doing and why they'd be spinning all original 45s and no reissues, suckas. Shadow prefaced the action by telling the audience that he and Chemist would be "trying to expand your musical vocabulary" and occasionally would be attempting to recreate hip-hop classics from their constituent samples. "We're gonna be fucking up left and right, guaranteed," Shadow threatened, but their flubs are still more entertaining than most jocks' A game. They had the capacity crowd rapt from the start.
]
Ben Stokes' visuals on three large screens behind Shadow and Chemist complemented these DJs' fetishization of vinyl artifacts with footage of revolving 7-inch singles as a woman's irises, 45s flying like flocks of birds, old-school jukeboxes' intricate workings, etc.
The Hard Sell Tour seemingly is about eclecticism and unpredictability. With ER-surgeonly urgency, Shadow and Chemist zig-zagged all over the musical spectrum, sometimes with rhyme and reason, sometimes without them. They spent a good chunk of the time playing around with hip-hop's building blocks while scratching and cutting something fierce. An especially rewarding stretch found them recreating a few tracks from De La Soul's 3 Feet High and Rising. They proved that the best funk cuts may be those you've never heard in their original form.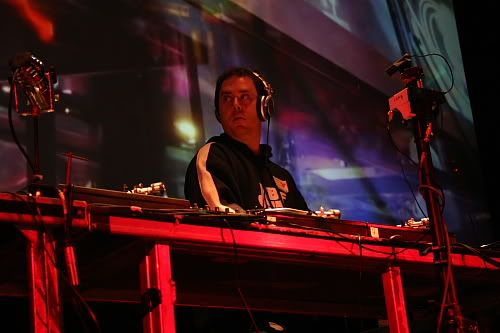 An early highlight was a cover of the Gilligan's Island theme mashed up with "Stairway to Heaven." That pushed all sorts of nostalgia buttons in people of certain ages. Another crowd-pleaser was the looping of Digable Planets' "We be to rap like key be to lock" line from "Rebirth of Slick (Cool Like Dat)."
Other aural signposts hit tonight were Baile funk percussion storms; a schmaltzy Valentine's Day segment, which Chemist mocked; a morose country song about pinball; early electro; Latin freestyle; Various Productions' dubstep standard "Sinner"; massive psychedelic funk; a heavy cover of Jefferson Airplane's "Somebody to Love"; a speed-metal song played on portable vertical turntables strapped over their shoulders and scratched to hell by both dudes. They ended with Soul Excitement's storming "Stay Together" and then tossed posters into the crowd. There was more, but it's 2 a.m. and I'm exhausted.
You have to respect Shadow and Chemist's commitment to this noble art form and admire their countless hours of digging for wax gems in dusty second-hand shops, inhaling mold from decaying LP sleeves, rifling through thousands of duds to get those few classics, so they can lay 'em on you and make your life richer. After tonight's flamboyantly dexterous turntable display, you will henceforth find Serato DJs hopelessly deficient—if you already hadn't.
Critic's Notebook
Personal Bias: I love DJs who spin vinyl, especially vinyl of great rarity and exceptional quality. Therefore I love DJ Shadow and Cut Chemist.
Random Detail: Music sounds better when your olfactory senses are assaulted by deep-fried food. Who knew?
By The Way: Unless you're loaded, you can't get afford to get loaded at House of Blues. I paid $9.50 for a piddling little cup of vodka and Red Bull. Ouch.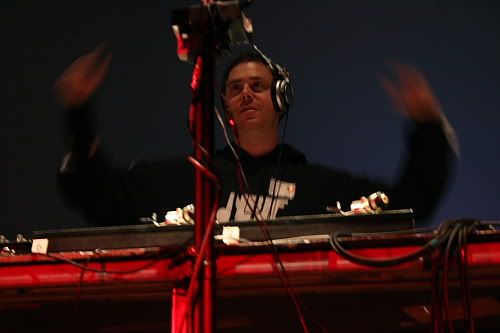 Photos by Christopher Victorio