Review by Marco Villalobos
Return of the Boom Bap featuring Del the Funky Homosapien, Aceyalone, Bukue One, and Thirsty Fish at The Vault 350, Long Beach
Wednesday, February 20, 2008
Better Than: The Rappin' Duke
Download: Hieroglyphics crew videos, an Aceyalone video, and Del's new songs on myspace
The DJs scratched records, they scratched compact discs, they scratched virtual records from a laptop, they scratched their heads, they scratched lottery tickets and counted all the scratch in their pockets.
The beats rained upon the sagging shoulders of fans toking one-hitters beneath tables, beats rained as people toked at the front of the stage, they toked in the middle of the crowd, the smoke lilted and spun as they puffed and passed. Girls with big hair went home smelling of herb on their scalps. Women with implants went home with their bras smelling of skunk. On stage, Aceyalone called for someone to give him something to smoke, and then grabbing a pipe, he screwed his face and returned it and let it be known that one of Hip Hop's greatest, most under appreciated MC's only smokes green bowls.

]
"Repack that, pack it fresh," he said. To which the nimble fingered kid in the front row seemed to say, "Ask and ye shall receive." And the smoke soon rose from the stage; it soon rose from the throat of the Project Blowed, Freestyle Fellowship MC who now rapped, "If Mary Jane is in the house, I'll mack her," before polishing off and returning the dusted bowl.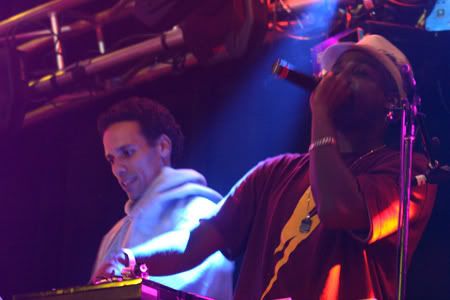 The stage manager, or some manager for Del the Funky Homosapien stood stage right, wondering how far Aceyalone would foray beyond his time slot. Aceyalone's DJ, Kilu, surrendered the decks to Acey who fidgeted with the pitch control, forcing himself to rap through a two verses and two choruses in double time, then he slowed the record and cadence all the way down to a stop and left.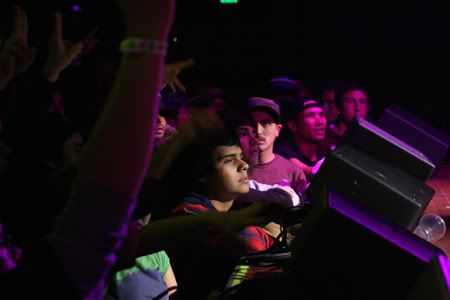 DJ Orator of Divine Forces Radio spun in between sets, cutting classics like a rusty jux to the abdomen until Del slid on stage in space goggle shades with a Heineken in one hand and the microphone in another. "Life is a blast if you know what you're doin'," the crowd chanted along, "better know what you're doin' 'fore you life get ruined."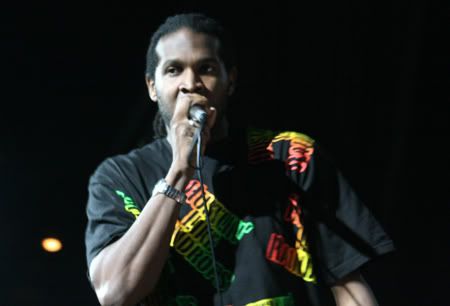 Del soon introduced A+, his Hiero family, which steered him through the play list, beatboxing on a whim, doing what hype men do best, pushing the Del and pushing the crowd. A six-pack was placed at the bottom of the DJ platform and the party was off to a wonderful start with D-E-L to the rescue.
Critic's Notebook
Personal Bias: Ever since heads blew at the Good life in Leimert Park, since Innercity Griots was released, Aceyalone has become more than a blip on my radar of true Hip Hop.
Random Detail: Not all balls bounce.
By the way: The Vault's chicken wings and fries smell so good, be sure you take some extra scratch to throw around.