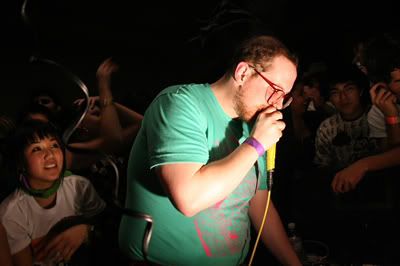 Dan Deacon, Ultimate Reality, Abe Vigoda, Narwhalz (Of Sound), Kial at the Pacific Ballroom, University of California Irvine
January 16, 2008
Better Than: Attending any lecture by your favorite prof.
Download: many songs by Dan Deacon.
I arrive at UCI's Student Center building's Pacific Ballroom during the last song of Kyle's impromptu set (I missed Lucky Dragons; sorry), a nuttily euphoric electro-pop nugget played while totally encircled by the mostly college-aged crowd on the floor. Pacific is a spacious, characterless conference room in which, one senses, much boredom has accumulated over the years. [CORRECTION: A reader has brought it to my attention that Pacific's been around only since Sept. 2007. That being said, I predict many years of boring vibes will accrue in this room.] However, tonight's show likely expunged all of the residual doldrums. "My mind is fucked right now," a young co-ed said immediately after Kyle's last song. I took that as an auspicious omen.
A prototypical nerdy dude going by the name Narwhalz followed Kyle with a short bout of Game Boytronica. He used the small device to generate a blipstream torrent while standing on a table with a flashlight in his mouth (the lights were dimmed). Spluttering twitters, truculent tweets, insistent woobs and mad burbles gushed forth in oddly hypnotic yet seemingly random patterns.
]
After a short break to set up, the four-piece band Abe Vigoda came on with the message, "It's important to go to school." Then they reenacted L7's thrown tampon shtick (this one wasn't used, though). The most conventional act of this bill, Abe Vigoda play tense, implosive post-punk. Their songs—some of which are in tricky math-rock time signatures—are short, simple reasons to get the yoof to bounce and mosh. After their performance, the singer announced, "We have a 7-inch and a cassette for sale." It was incredibly touching—young'uns still repping the analog.
Ultimate Reality (Jimmy Joe Roche and Dan Deacon) were as awesome as their moniker. This duo plays drums before sensational film footage that's mirror-imaged, garishly hued and alternately slowed-down and accelerated until it's practically Rorschach Test abstract. The soundtrack is intense electronic drones and loops and triumphant melodies, augmented by two drummers. It often reminded me of Philip Glass and Terry Riley, but with steadfast martial rhythms and onward-and-upward propulsion.
The images behind them derived mainly from action flicks and godawful Arnold Schwarzenegger movies for maximum ludicrousness and mockery. UR's set was very well plotted, ebbing and flowing with exciting logic and delivering a grandiose payoff at the end. It was real triumph-of-the-will shit and thrillingly psychedelic. A moshpit was even activated, and for once it didn't look idiotic.
Deacon's solo set began with a bit of House of Pain's "Jump Around," instigating head-bobbing and WTFs in equal measure. His whole m.o. is to motivate/order the crowd to do things they ordinarily don't do at shows. The goal is to subvert expectations and have way more fun than you planned on having.
Most of Deacon's songs tonight sounded like bubblegum Suicide; I kept hearing the beats from that great group's "Rocket USA." Which is not bad thing. Deacon's a classically trained keyboardist, and you can hear sophistication in his chordings, even as they mine that Suicide-like primal throb and often adorned with Deacon's heliumized vocals. Tonight he showed that he's become a master of absurd ditties.
By the end of the night, Deacon had the 200 or so youths (and one old music journalist) running around the room and slapping high 5s with everyone they passed. This had to be a first (and perhaps a last).
Critic's Notebook
Personal Bias: I have a weakness for psychedelic imagery and drone-based, mantric electronic music, so Ultimate Reality made my week—maybe even my month.
Random Detail: Deacon's setup includes a lime-green skull on a post that pulsates in time to his beats.
By The Way: Many UC Irvine students need to discover the wonders of deodorant.
Photos by Christopher Victorio. Click HERE for a slideshow.