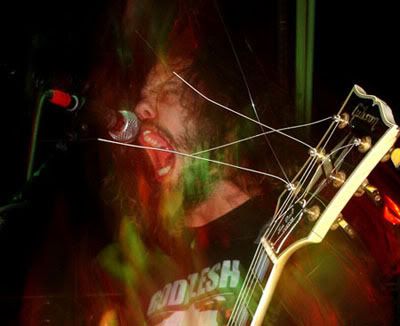 Baroness and The Red Chord
January 9, 2008
Showcase Theatre
Better Than: Whatever tribute bands were playing in Orange County last night. Which isn't saying much, but then again, I did have to drive to Riverside to find a decent show.
Download: "The Birthing" by Baroness, from their album, The Red Album.
Ahh, the Showcase Theatre. I hadn't been there in almost seven years. The Showcase was the club that I started going to shows at when I was in high school, back then they had all the best punk rock acts that were coming through town, unlike today. These days, the club has been relegated to hosting battle of the bands, grindcore, death metal and crust punk shows. Not there's anything wrong with those kinds of shows – it's just that the Showcase's heyday has long since past.
But that's what memories are for, right? Like going to see Straight Faced because a girl I liked was going to the show, even though I didn't like them, but being glad I went because it was the first time I saw Death By Stereo. Or the time I saw The Living End and ended up standing next to this kid who had a major "thing" for singer and was making kind of a scene. Or randomly catching a set by All Or Nothing HC and subsequently developing a little crush on Renae Bryant. Anyways, I'll quit the trip down memory lane. It was just that being inside the Showcase last night brought back a lot of memories of shows seen when I was 16 and 17 years old.
]
So given the current state of the club, one might imagine my surprise when I found out that Baroness were playing the Showcase last night, a.k.a. the band that put out one of my favorite albums of 2007, their Red Album. Of course I came to find out that this show was a special occasion, as it was a free event set up by Beyond Marketing and presented by Scion and Vice. No matter, free is good. Right? Right.
I showed up around 7 p.m. – much earlier than I had anticipated due to the unbelievably light traffic on the 91 freeway – to find a line of kids wrapped around the club, eagerly awaiting the doors to open at 8 p.m. With an hour to kill I met some friends who were visiting from the East Coast for some pizza and brews (nothing like some Lamppost Pizza to make you feel like a little leaguer again).
Arriving back at the club, Baroness were just launching into their epic, "The Birthing," from the aforementioned Red Album.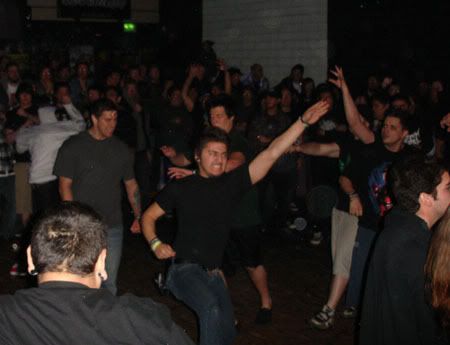 For the next 45 minutes, Baroness didn't utter a word to the audience, instead letting their instruments do the talking as they raced through songs like "Isak," "Wanderlust," and 'O'Appalachia." More of an instrumental band than anything else, Baroness are really into just rocking out, finding those killer riffs and playing them off each other to lock into some heavy grooves.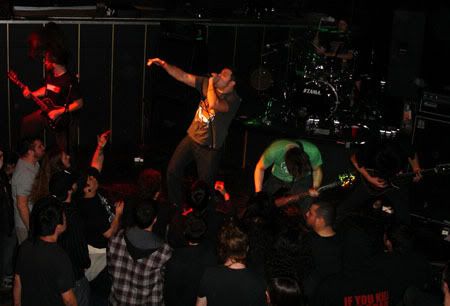 Next up were Boston's The Red Chord, who I will admit going into the night I didn't have much desire to see after listening to their recorded material. It's the vocals. Take a listen for yourself. Anyway, like anytime I've been at a show where I don't care much for the band on the stage, I found solace in watching the crowd.
Last night they had created a large space on the floor in front of the stage so they could practice their jump kicks, handstands, cartwheels, windmills and whatever other gymnastic and tumbling moves they could remember from their childhood karate classes. It was funny to see hardcore dancing again, it had been a while, and I'm glad that it lives on in kids with big plugs in their ears, Dickies shorts and Converse All-Stars.
Critic's Notebook
Personal Bias: I didn't spend a dime last night, with dinner on my friends and corporate marketing dollars footing the music bill.
Random Detail: There is quite a juxtaposition between Guy Kozowyk's (the singer for the The Red Chord) outward appearance and singing voice.
By The Way: For those of you who haven't been to the Showcase in a while, I am happy to report that the pizza place next door and the 99 cent store are still there.