Photos by Choncey Langford
Autechre, Rob Hall, Massionix at Echoplex, April 4, 2008
Better Than: Any other electronic-music event happening in the US this night.
Download: Tracks from Autechre's new album Quaristice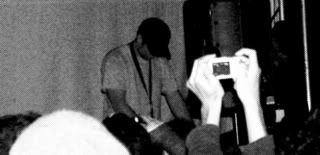 Autechre (English electronic-music innovators Sean Booth and Rob Brown) still play in the dark, as they always have. No visuals, no light show, no stage banter, no dancing, no acknowledgment of the audience whatsoever sully the purity of their performance: all the better to allow you to absorb every nuanced convolution of their impenetrable compositions. And people come out in droves to lap it up. It's pretty astonishing.
Taking the stage at midnight, Autechre (often referred to as Ae) instantly started with some malevolent, whiplash electro. Alpha-cyborg beats pummeled with Hollywood-thriller-flick impact. You could see some adventurous souls trying to dance, but not really finding the groove. Instead of getting on the good foot, folks had to settle for the mediocre tootsie. That is, the few who did try to move to these demonically deformed rhythms.
This probably comes as no surprise to those who've lived in SoCal for a long time, but LA crowds are incredibly undemonstrative, which is remarkable to this relative newcomer. Blasé about all the great shows that come through here every night, Angelenos see no reason to rouse themselves to overt displays of enthusiasm. That's usually my demeanor at concerts, but I'm old and jaded. I expect younger people to freak out to fantastic music. But that certainly wasn't happening tonight at Echoplex, a low-ceilinged, exceptionally long and unpretentiously classy space that holds 680 (it was filled to capacity for this show).
Anyway, Autechre's hour-long set moved from the aforementioned electro—all sputtering cogs, splintering metal and warped orchestrations—to a rarefied brand of trash-compactor techno. It was some of the most agitated, infernally detailed music ever. Think of the sounds spas use to relax patrons from the horrors of civilization: Autechre's productions are the polar opposite of those. Brains overheat trying to follow their off-kilter peregrinations, which emanate not from laptops, but rather from ye olde drum machines and synths. Hardware for hard sounds.
Opening acts Massionix and Rob Hall complemented Autechre well. The latter—Rob Hall—a frequent Ae collaborator in the Gescom project and their go-to tour DJ—generated solid IDM (Intelligent Dance Music) that caused me to flash back to the late '90s, when the Skam and Warp labels ruled the underground electronic circuit.
Massionix (Graham Massey of 808 State fame) did a surprisingly varied live set. He began with some heavy, Jah Wobble-esque dub augmented by effects-laden soprano sax, before shifting into some warped metallic percussion passages and orchestral ambience of distorted beauty. Later, Hall strapped on an electric guitar and took an Adrian Belew-like solo over irregularly cascading beats. He also conjured some Pharoah Sanders-ian soul jazz, a rugged rave anthem and EBM that recalled Liaisons Dangereuses. Massionix's a real asset for his Autechre buddies. Make sure you get to the show early if you plan to see Ae on this tour.
Critic's Notebook
Personal Bias: My shelves groan with Autechre CDs and vinyl and I've been into them ever since I heard their tracks on Warp Records' first Artificial Intelligence comp from '92.
Random Detail: Standing next to each other in the crowd: a white guy with an old-school punk Mohawk and another white guy with blond dreadlocks. Autechre: uniting the tribes one chest-caving beat at a time.
By The Way: During the show, I heard a rumor from Matt Alsberg of LA's Mush Records that Prince is going to play Coachella. Just in case you were on the fence about attending…