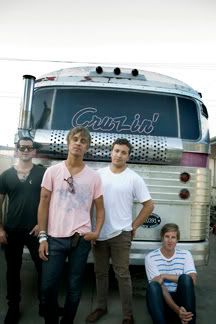 In a June 27, 2007 live review on Heard Mentality, I wrote:
Japanese Motors came off as an amalgam of late-'70s NYC influences, like a West Coast Strokes, which I'm sure they're sick of hearing already. I'm guessing Japanese Motors will be signed to Kemado or Dim Mak by year's end.
I was wrong. Taste-making NYC label Vice Records just signed Japanese Motors. A Vice rep said in an email: "We're really excited to be working with them and can't wait to unleash their brand of surf-garage-pop to the masses."
In other news, Japanese Motors will be playing the Monday night residency at Detroit Bar in September. Stay tuned for more Weekly coverage of these Costa Mesa rockers in the near future.
In the meantime, check out their raucous tune "Brand New Everything."
Full press release about JM's signing and upcoming activities after the jump.
]
VICE RECORDS TO RELEASE JAPANESE MOTORS DEBUT ALBUM!
Japanese Motors are the most exciting band to emerge from Orange County since the heyday of Social Distortion and TSOL. Hailing from Costa Mesa and comprised of RVCA pro-surfer and singer Alex Knost, guitarist Nolan Hall, bassist Chris Vail, and drummer Andrew Atkinson, the band is known around Southern California for the insane, all-night blowouts they put on as much as for the driving, raucous garage pop they set the partying to.
Rather than fight the influence of their surroundings like so many of their So Cal contemporaries, Japanese Motors have channeled it into their music, making tunes every bit as sun-baked and laid-back as their coastal environs and rife with positive imagery. "Most bands from here are trying to sound like they're from London or New York," Nolan says. "We embrace where we're from." In return for their local pride, the Southern Californian surf community has embraced them right back. Japanese Motors are part of RVCA's Artist Network Program and fellow surfers Emmett and Brendan Malloy (who made three White Stripes videos) directed the video for the band's first single.
On August 19th, Vice Records will release this single, "Single Fins N Safety Pins," which contains the album version and a radio edit of the song, as well as b-side "Coors Lite," another track from their upcoming self-titled full length debut, due in October 2008. Japanese Motors hit the road in August, starting off in NYC, winding their way down the East Coast before heading back home to play with the Black Lips and at LA's Detour Fest (see full list of dates below).
Download Japanese Motors, 'Single Fins N Safety Pins', on Spinner.com:
http://download.spinner.com/2008/08/01/japanese-motors-single-fins-and-safety-pins-free-mp3-of-the/
Japanese Motors' Alex Knost on VBS.TV's Hi-Shredability:
http://www.vbs.tv/shows.php?show=1055
http://www.vicerecords.com/japanesemotors.php
TOUR DATES
AUGUST
14 Glasslands, Brooklyn, NY
RVCA's Right Coast Surf Tour:
15 5:30pm Spellbinders Surf Shop, 318 Main St, Allenhurst NJ
16 5:30pm Brave New World, 1208 Richmond Ave, Point Pleasant NJ
17 5:30pm Farias Shop 2804 Long Beach Blvd, Ship Bottom NJ. After Party 9pm @ The Marlin Barr 2 South Bay Ave, Beach Haven NJ 08008
18 9pm Le Grande Fromage, 25 Gordons Aly Atlantic City NJ
19 5:30pm Malibu©-s Surf Shop, 8th N Boardwalk Ocean City MD
21 The Attic, Virginia Beach, VA
22 The Taphouse, Norfolk, VA
23 The Jewish Mother, Virginia Beach, VA
SEPTEMBER
Every Monday in September – Detroit Bar, Costa Mesa, CA (residency presented by OC Weekly N KUCI)
OCTOBER
2 The Belly Up, Solano Beach, CA w/ Black Lips
3 Detroit Bar w/ Black Lips
4 Detour Fest, LA