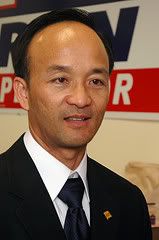 The love the OC Young Democrats bestowed on sweetheart First District candidate Hoa Van Tran, the other Vietnamese candidate (and only Democrat) running against Janet and Dina Nguyen (no relation) for the First District Supervisor's seat, has officially wilted. After rushing ahead of the OC Democratic Central Committee with a zealous early endorsement, the Young Dems officially retracted their support today, "citing the questionable connections of several staff members on the campaign." The Central Committee is holding a special meeting tonight to decide whether they'll pull their support.
Tran hasn't had a pretty month. Allegations that gang members were working for his campaign, finance disclosure missteps, a restraining order filed against his campaign manager Edgardo Reynoso by a former staffer and the strange but identical-to-Dina-Nguyen campaign flier web address typo that sent readers to a gay Cholo porn site, have left supporters and critics wondering what the hell is up with Hoa Van Tran.
]
The whole thing has been followed and debated intently by the Liberal OC blog and others. The candidate, a Gulf War vet and attorney, seemed like a congenial hopeful for the Dems, who were trying to make inroads with the deeply Republican Vietnamese First District base. But bloggers and other Democratic groups don't seem satisfied with the answers they are or aren't getting from Tran or Reynoso.
Only a few weeks after Tran gleefully spoke to the OC Young Dems at a happy hour mixer, the group issued a statement today retracting their endorsement. Chairman Jason Bensley said in the press release that the group is not made up of "…blind partisans that willfully disregard wrongdoing within a campaign."