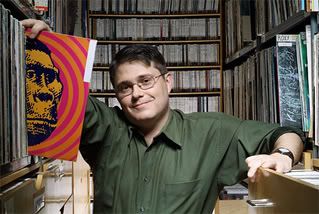 Radio jock Eric J. Lawrence schools you in the wee hours. Wee!
KCRW disc jockey Eric J. Lawrence—whom I profiled here—is moving his 12 a.m.-3 a.m. time slot from Monday/Tuesday to Sunday/Monday. It's a subtle shift, but I think a beneficial one, at least for me, as I stay up late more often on Sundays than I do on Mondays. Whatever your sleeping habits, you can check out Lawrence's most excellent show on www.kcrw.com, where it's archived.
As I stated in my Sprawl of Sound column, I think Lawrence is consistently the most interesting programmer among KCRW's talented roster. His depth and breadth of knowledge are astounding and his taste impeccable. Every show is a pleasurable education. You should check him out.