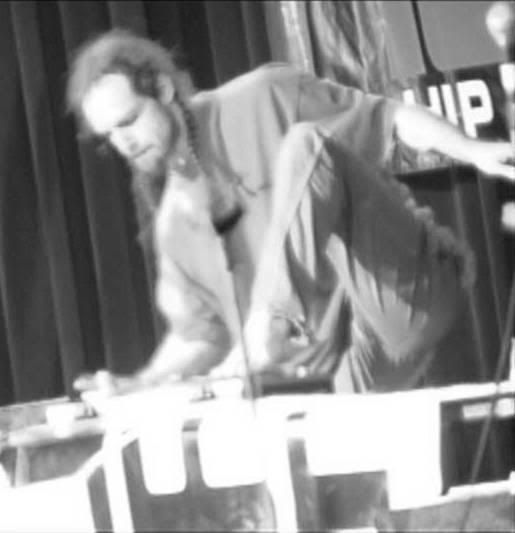 DJ Frane: very decks-toe-rous.
I thought I might've been pouring it on too thick with this Heard Mentality post, but it turns out I wasn't effusive enough. Last night at the Continental Room's Behind the Red Curtain event, DJ Frane put on a master class of funk and turntablism (a panoply of scratches that was tight and acrobatic, including the soleful toescratch) that had jaws tattooing the dance floor as often as feet.
Frane's selections combined the obscure (uh, I'm having trouble identifying them—that's how obscure they were) with the well-known (Funkadelic, James Brown, Rick James, the Time), with the quality level uniformly high no matter where in the crates he dug. Toward the end, Frane pulled out some sweet-ass reggae/dub tracks (Dawn Penn, Sister Nancy, Musical Youth), but the night's highlight came when Frane started scratching Prince's "Head" with his mouth. [See photo from this blog post.] Talk about being thematically correct and amazingly dexterous…
This was Frane's first Orange County DJ performance and it's doubtful the OC's seen anything like it. You can catch him next at the Mountain Bar in LA Thursday night.