With the skies painted a dismal gray, and my mood darkening to match what loomed overhead, I headed to Santa Ana for the Santa Ana Zoo's weekend birthday celebration.
What's that, you say? Santa Ana has a zoo? Yessiree. That it does and this weekend, the zoo turns 56. Fifty-six years of caged monkeys, displayed farm animals and good old-fashioned family fun.
I should have been more excited. I was, after all, headed to a party … but there's something strangely somber about heading out to a small facility to view wild animals trapped for display. That may not be entirely fair, either. Who's to say that the animals weren't rescued then placed in tiny habitats because they couldn't survive in the wild? Either way, the zoo is celebrating a birthday and catering to the families and community that have been its lifeblood for 56 years.

]
Despite the sky's threat to rain all over the parade, quite a few families showed up to take part in the day's events. Face-painted children grasping parental hands meandered across the grounds, taking in choo choo trains, livestock, and the restless monkeys clamoring towards the tops of cages.
One little boy wondered why one monkey was so stupid, running back and forth on the same branch and getting nowhere. "He's not stupid, son," informed the patient father. "He's just frustrated because he's stuck in a cage." Exactly. Try as I might to capture the animals' enthusiasm with my lens (photos to follow), they either ran out of view or hid sulking behind their makeshift habitats. I guess they didn't get the memo about the festivities at hand.
Fortunately the elephants were more forthcoming … standing still to pose for the multitude of parents with cameras seeking to capture their little ones' ride of a lifetime. Then again, with trainers surrounding them, bales of hay at their feet and festive flowered garlands draped across their heads, the elephants may have been more poised to celebrate then say, the clipped Macaws or caged monkeys.
The zoo, in all fairness, does offer families a glimpse into a simile of the wild and serves an educational purpose. Kids can learn about conservation, view otherwise inaccessible creatures somewhat up close, and take a ride on a mini railroad. It beats sticking little Johnnie or Sue in front of a television and gives families a chance to bond in the midst of an otherwise concrete jungle.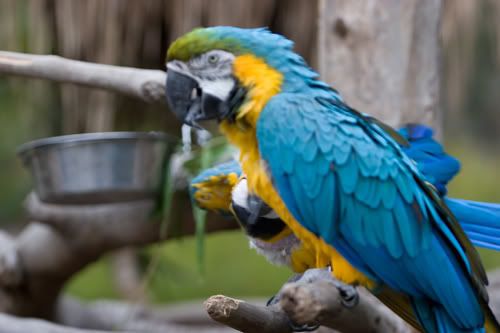 Couple those things with the chance to perform during the day's events, as the children of El Sol Academy and Kids are Music got to do, and it's fun for the whole family. Never mind that the performers' parents seemed more excited than the performers themselves – small glimpses of childhood innocence shone like a beacon across what could have otherwise been a cloudy and dismal day.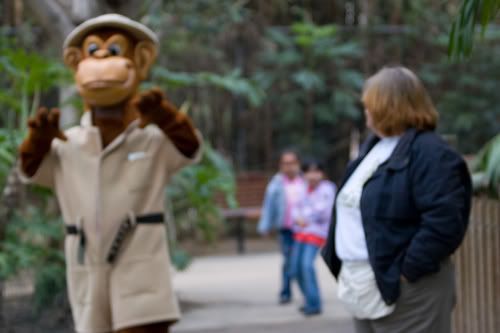 The Santa Ana Zoo continues its birthday celebration tomorrow from 10:00 a.m. to 2:00 p.m. and is open year round from 10:00 a.m. Monday through Friday, and from 10:00 to 5:00 p.m. Saturday and Sunday.