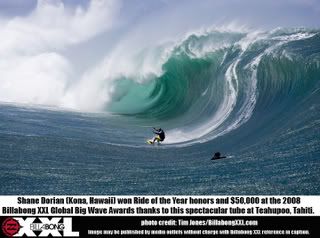 Last night I went to The Billabong XXL Global Big Wave surfing awards, and flew solo. The event, which took place at The Grove of Anaheim, is for general analogy reasons, referred to as the "Oscars" of big wave riding and featured the biggest names in a sport which consists of being towed via jet-ski into skyscraper-sized, mountains of thunder and death on top of a foam plank.
(*disclosure* During the first half of this post I don't really include any useful awards information, instead I recount a harrowing near fatal cougar attack I endured while simultaneously struggling to secure a frosty beverage. If you want the Awards results, please skip to the second half.)
Sadly, while I should have been in awe of the walking immortals and legends of big-wave riding among me, I was wrapped up in my own self-consciousness, being not only the only person at the party who didn't know anyone, but also completely oblivious to the sport itself. For the first half, anyway. The second half is kind of fuzzy, but got way more awesome.
When I arrive, I am ushered through the line like a celebrity. Once inside, I stand there by myself, feet on the red-carpet, looking around helplessly at all the gorgeous surf babes and dudes with over grown soul-patches. I sort of back, inconspicuously like I'm pulling a fast one, into the beer line.
Seeing my press badge, a guy leans over and says, "Do you know who that is?" pointing at some dude who looks like any guy you'd see sharing a pitcher with his bro's at Mutt Lynch's on a Sunday afternoon, "That's Cody Graham," the guy announces loudly, pointing toward him, almost verbally shoving me to go get an interview or snap his photo.
]
Problem is, I don't know Cody Graham from Teddy Grahams, and even if I did, I aint going to interview anyone until I have at least dos Dos Equis in my belly, "That's cool," I say. After what seems like a monumental wait I reach the front of the line, only to realize I've left my wallet in the car. I have a mini anxiety attack and dart back into the parking lot.
Outside, a group of probably underage youths are guzzling Coors Light outside of a charter bus, tailgating. "Hey, I'm from OCWeekly, do you want to interview, and can I get one of those beers," I say, expecting it to be no problem.
"Uh, they're not mine, but I'll get one for you, no worries," says Justin Haas of Orange.
"Oh, well let's do an interview and then, but can I get one of those beers," I says.
"Yeah, no worries, I'll make sure you get one, what questions do you have?"
I ask him some perfunctory questions and don't bother to write down his answers. Yeah, he's stoked to be here, so am I. "So can I get one of those beers?" Turns out the guy who's beers they were walked away during the sham interview. Damnit.
I retrieve my wallet from the car and proceed back into the beer line. I am hyper-aware of being by myself, like when a friend invites you to his friend's party and immediately abandons you, leaving you to sip from your beer and make welcoming facial expressions ­ that ultimately come off as desperate ­ to groups of strangers that are completely uninterested in making your acquaintance. It's like the first day of school, but everyone in school is popular.
Sensing my weakness from across the room, a vicious Cougar with blond-dyed hair and silicone breasts locks her gaze on me. I look behind me, hoping to find someone else is actually the target of her creepy, sex predator eyes. She starts half-hopping, half-bad-dancing toward me, all the time with her carnivorous stare becoming more intense. Like a safari hunter seconds away from being devoured by the advancing beast, I desperately draw my arms, a digital SLR camera in hopes of halting her charge. It works, momentarily, as she stops in her tracks and strikes a pose. Suddenly, the autofocus goes haywire. It zooms in, out, in, out, as if it were trying to decide if this image was real. Crap, misfire. I have to draw down in order to futz around with the settings. Before I can figure it out, she's right in my face, like right in my face, like an inch away. I'm backed up against the table where an ice sculpture of the logo for Monster Energy drinks is set.
"Uh, I was trying to shoot you, but the camera kept zooming in and out," I said, realizing only afterward the sexual innuendos I'd just invoked.
"Oh," she says puffing out her bulging cleavage, "I wonder what you were zooming in on?"
Just then, her friend and her friend's husband walk over to me and make a sort of forceful, overly confrontational, introduction, as if I were the one trying to take advantage of this woman. They look at me distrustfully, then usher the cougar away.
Once I had secured a recognizable buzz, I make my way to the stage area where the photographers are huddled around dodging each other's cameras. This was the most fun of the evening, it was like having better than front row seats. I run around half-drunk snapping photos of the surfers and the audience, feeling kind of like a papparazzi. A couple times when an interviewer would go into the crowd and talk to the famous surfers in attendance, I was able to stand up and see the 2,000 person crowd from the perspective of the presenters, which is very humbling.
Also humbling is witnessing what these big wave riders actually do, via a large projection screen and bass heavy surround sound. The riders look absolutely tiny skidding across thunderous, mammoth waves. The scale is absolutely insane. In fact, one rider, San Clemente's Mike Parsons set a world record last year for riding an over 70 foot tall monster. This is not supposed to be possible. These guys are actually defying boundaries of logic and nature, the possibility only being born after someone realized that, since it's humanly impossible to paddle into these waves, being towed by a personal watercraft allows for this kind of surfing to happen for the first time in human history. The now seemingly mythical, but probably going to happen eventually, next step, is the elusive, possibly impossible, 100 foot wave.
Since, I'm not really versed enough in the sport, nor sober enough to try to learn, I'll now turn to the good publicity people to give a real good analysis of the winners, I'll just be lazy and re-publish the press release I received this morning from Bill Sharp.
(End of First half, now to the Awards results).
2008 BILLABONG XXL GLOBAL BIG WAVE AWARDS CHAMPIONS CROWNED
Hawaiian Shane Dorian Claims Ride Of The Year
Californian Mike Parsons Surfs Biggest Wave In History at 70ft+
NEWPORT BEACH, CA — (April 11th 2008) — The kings of big wave surfing have been crowned at the eighth annual Billabong XXL Global Big Wave Awards in California. Regarded as the Oscars of big wave surfing, the 2007/08 awards recognize the biggest and heaviest waves ridden and documented over the past twelve months.
2000 surf stoked fans packed the Grove Theater in Anaheim to witness mind-blowing rides from Chile, Europe, South Africa, Australia, Hawaii, Mexico, California and French Polynesia. In what proved to be one of the best years in big wave surfing history, over 500 images and videos were submitted for judging. The awards are decided by a panel of 250 surfers, selected surf media and big wave aficionados.
Shane Dorian, 35, of Kona Hawaii, scooped top honors by winning the $50,000 Ride Of The Year Award for a wave conquered at Teahupoo, Tahiti during the swell of the year on November 1st 2007. After being towed into what shaped up as one of the rides of the session, Dorian dropped to the base of the heaving slab and caught a slight rail, putting him in a near impossible position. After correcting his mistake in the tube, the natural footer went into a full layback, coming from behind the foam ball to be cartwheeled into the safety of the channel.
"Usually at Teahupoo, you pick your line, set your rail and you normally make it, but that wave was really unique," said Dorian. "I nearly fell at the start, I nearly fell in the middle and then it clipped me at the end.
"It was difficult because I was almost eating it the whole time."
"To think that I got the Ride of the Year is a huge honor for me, I'm really psyched that Billabong and Monster throw a big deal for it and support all the guys who go out and ride these waves," he said. "But really, at the end of the day the ride itself is the biggest reward and it's one that I will remember forever."
It was the skill required to make the wave from the position he was in that gave Dorian the nod over Tahitian Manoa Drollet who rode a wave of similar consequence during the same session. Carlos Burle (Brazil) finished third for a giant ride at Ghost Tree, California, Ian Walsh finished fourth for a Teahupoo bomb and Australian 21-year-old Michael Brennan finished fifth for an insane ride at his local break of Shipstern Bluff in Tasmania. Brazilian videographer Gustavo Camarao won $5000 for capturing the winning Dorian ride.
San Clemente big wave legend Mike Parsons, 43, has officially surfed into the record books for riding a wave judged to be 70ft+ (24m+) to win the Billabong XXL Biggest Wave Award. The feat was performed at Cortes Bank off the Californian coast on January 5th 2008. Judges measured the wave at 70ft but due to the photo cutting off the bottom of the wave they were unable to accurately pin point the exact base of the ride, meaning it is actually somewhat larger. It is the second time Parsons has secured the prestigious Biggest Wave Award after taking out the inaugural title in 2001 for a 66ft wave ridden at the same location.
"I didn't think a session like that could ever happen twice, I mean that day in 2001 where I rode the first winner at Cortes was incredible," said Parsons. "It feels surreal to say that I rode a 70ft wave, I can't believe it."
"There have been so many big waves ridden throughout time and when I sit at home I can't believe that I may have ridden the biggest one ever," he said. "The amazing thing about big wave surfing now is how global it is going."
"Young guys like Jamie Sterling, Mark Healey and Greg Long are really pushing this sport and taking it to new levels," he said.
Parsons picked up $15,000 and a Honda Aquatrax watercraft for his ride.
Fellow Californian Greg Long featured heavily in the 2008 awards by taking out the $15,000 Monster Paddle In Award and the $5000 Surfline Men's Overall Performance Award. The defending XXL Big Wave Award winner has been supporting his love for big wave surfing without a major sponsor in 2008 and said the $20,000 prize money would allow him to chase a few more swells in coming months.
"Surfing big waves has been a passion of mine since I was about 16 years old and the past two years I have been completely obsessive-compulsive about it," said Long. "It's what I truly love doing, being out in the ocean when it is at its wildest and riding these big waves."
Tahitian Manoa Drollet, 30, secured the $5000 Monster Tube Ride Award for the same wave he was nominated for in the Ride Of The Year Category at Teahupoo.
Maya Gabeira, 21, took back-to-back titles in the Billabong Girls Best Performance Award after notching up a collection of giant rides in Tahiti, California, Hawaii and Mexico over the past twelve months. Gabeira proved without doubt that she is the world's premiere female big wave surfer.
"It is such and honor to be here again, two years in a row," said Gabeira. "All my friends are here and my mom flew out from Brazil.
"To see those waves on the big screen here and listen to everyone scream is such a good feeling."
The 2007/08 Billabong XXL Awards can be seen on ESPN2 on Friday 29th May at 9:30pm. The awards ceremony was webcast live on BillabongXXL.com and simulcast on EXPN.com
The Billabong XXL Global Big Wave Awards are presented by Monster Energy. Surfline is the official surf forecast, Verizon Wireless is the official communications provider and Honda Aquatrax the official watercraft. The event is sponsored by Surfing Magazine and Hawaiian Airlines.
BILLABONG XXL RIDE OF THE YEAR AWARD
(Surfer prize $50,000 – Video prize $5,000)
1st: Shane Dorian (Kona, Hawaii, USA) at Teahupoo, Tahiti on November 1, 2007.
(Video by Gustavo Camarao)
2nd: Manoa Drollet (Tahiti, French Polynesia) at Teahupoo, Tahiti on November 1, 2007.
3rd: Carlos Burle (Rio de Janeiro, Brazil) at Ghost Tree, California on December 4, 2007.
4th: Ian Walsh (Paia, Hawaii, USA) at Teahupoo, Tahiti on November 1, 2007.
5th: Michael Brennan (Tasmania, Australia) at Shipstern Bluff, Tasmania on January 14, 2008.
WINNER BILLABONG XXL BIGGEST WAVE AWARD
(Surfer prize $15,000 and a Honda Aquatrax watercraft with HSA sled – Photo/video prize $4,000)
Mike Parsons (San Clemente, California, USA) at Cortes Bank off California on January 5, 2008.
(Photo by Robert Brown)
WINNER MONSTER PADDLE AWARD
(Surfer prize $15,000 – Photo/video prize $4,000)
Greg Long (San Clemente, California, USA) at Todos Santos, Mexico on December 5, 2007
(Photos by Jeff Flindt)
WINNER MONSTER TUBE PHOTO AWARD NOMINEES
(Surfer prize $5,000 – Photography prize $2,000)
Manoa Drollet (Tahiti, French Polynesia) at Teahupoo, Tahiti on November 1, 2007.
(Photo by Jeff Flindt)
WINNER BEST MALE OVERALL PERFORMANCE AWARD
(Surfer prize $5,000)
Greg Long (San Clemente, California, USA)
WINNER BILLABONG GIRLS BEST PERFORMANCE AWARD
(Surfer prize $5,000)
Maya Gabeira (Rio de Janeiro, Brazil)