Atzlan Underground has been on hiatus for a few years now, but the group is back in yet another reincarnation. Their original 90s post-hardcore punk sound has evolved under the influence of hip hop and Native American music, yet their core remains the same: speaking the truth in all forms and emphasizing man's primitive spiritual connection to the earth.
AU was the main ticket at Reseda's Palomino Bar last, supported by Panic Motion and Los Hijos.
Panic Movement is a three-piece band lead by singer Benjamin Espinoza, a man with two faces. Seriously, it's like something out of a comic book. When Espinoza takes off his hat and glasses and becomes a completely different in a way I can only describe as the superman complex. The group sounded like nothing I've ever heard before, but if you put the White Stripes and Wolf Mother together you're getting pretty close.
]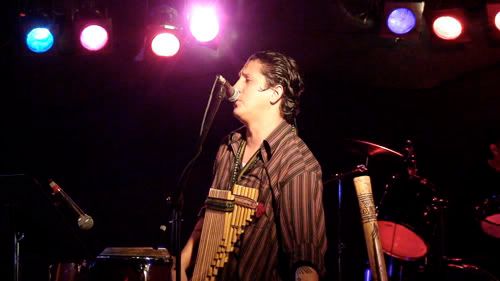 Los Hijos de la Tierra was up next. Here's a clip of their performance:
AU's set started with howling wolves and ghostly bellows. The bar setting was suddenly surreal, engulfing everyone in a blanket of primal sound. The Native American drum kept a steady beat while Yaohl (the main singer) prepared to perform.
Yaohl was intense as he transitioned from slow, emotional choruses in Nahuatl to English fits of punk aggression. The songs were aimed at the government and its maltreatment of Mexicans and Native Americans. Atzlan Underground's music emulated the sounds of nature, which, the bass player said, is the most important part.