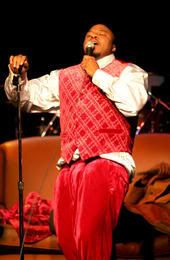 Tryflynn, the anal-attentive crooner.
R&B has long been a sanctuary for sincere romantic sentiments, songs full of Vaseline-lensed, wine-light schmaltz. The characters in these songs never have intestinal distress or garlic breath or a raging zit precisely where the third eye's located. And rarely does raunchy humor violate the genre's strictly defined parameters. (R. Kelly is funny, but probably not intentionally so.)
So the song "Booty Hole" by LA crooner Tryflynn is an anomaly. Musically it hews to R&B's soft-cushioned, satin-sheeted smooveness. Lyrically, however, Tryflynn plays it blue—or rather, brown. Check out dude's MySpace and revel in some scatological loverman shtick.
"We'll start with my thumb and then my whole fist/Punch you in your ass/Call me Tyson, bitch." What a charmer.
Tip: I Love Music