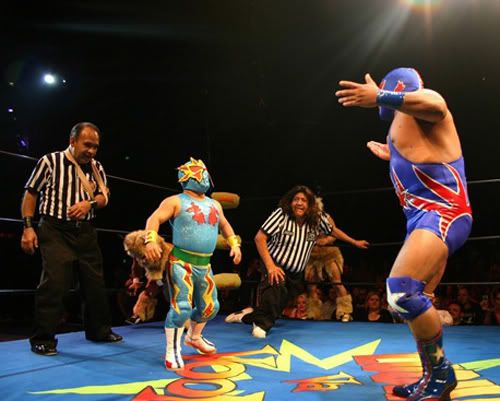 Luchadores—those masked wrestlers­ from south of the frontera—will be taking over the Grove of Anaheim tonight in what's sure to be a spectacle of high-flying moves and debauchery.
Tonight's event is Lucha Va Voom Sexo Y Violencia, and Mexican wrestlers from all over Mexico, Los Angeles and Texas will be battling for ring supremacy, the honor of their hometown and the coveted Summer-Nacionales cup.
In between matches, the ring gets hot with burlesque performances from New York's Wau Wau Sisters, Chicago's Michelle L'Amour, LA's Lucy Fur, Karis and Lola La Cereza.
Oh wait! There will be midgets, too. Doing… I'm not sure. Wrestling? Probably. Performing burlesque? One can only hope.