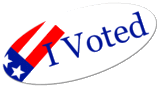 As we are sure you have heard by now from one form of media or another, tomorrow is Super Tuesday; a day that will play a gynormous part in determining who will go forth to the 2008 Presidential Slugfest.
In order to ensure that your fighter makes it to the final round you must root for them at a local polling location. And thanks to the lovely folks at the OC Registrar of Voters, you can find just such a location by visiting ocvote.com (or click here) to find where to wave your ballot.
Now, go forth strong voters, voice your opinions and come away with a lovely parting gift: a snazzy new sticker! It is both fashionable and fun for the whole family. The sticker, not the voting.