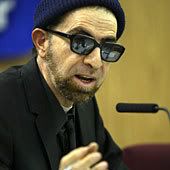 Chapman University political science professor Fred Smoller has been fascinated by the spectacular rise to power of Steve Rocco, the wacky Orange Unified School District trustee, ever since Rocco won his election in November 2004, and particularly after parents who voted for Rocco because the ballot described him as a "teacher" and his opponent, Phil Martinez, as a park ranger, realized they'd just elected a nutbar and tried (unsuccessfully) to recall him.
Unbeknownst to voters–and the national and local media, except for us–Rocco wasn't a "teacher" but an unemployed recluse obsessed with uncovering the so-called Partnership, a secret cabal between Albertsons, Kodak and Smokecraft Sausages that controls Orange County government. As first reported by the Weekly a week after his election, Rocco discovered the Partnership in 1980, when he was arrested for shoplifting four rolls of Kodak film and a sausage at an Albertsons store in Santa Ana.
Anways, Smoller now has a documentary on the internet that you can view at www.recallingrocco.com. It includes a lot of great footage of Rocco ranting and raving about the Partnership during school district board meetings, insulting fellow board members, and generally sounding paranoid and crazy. The Weekly, of course, has had a lot of fun with Rocco. We attended his press conferences (during which Rocco soberly outlined attempts by Albertsons to murder him) and even broke the biggest story about him ever written: that Rocco is actually the deceased performance artist Andy Kaufman, (see "If You Believe They Chose a Man Who's a Loon.")
But Smoller, who has posted Rocco's rants on Youtube, doesn't find Rocco amusing at all. "The YouTube website has 21,000 hits, but, unfortunately, that is from a large group of people who are convinced that Rocco is Andy Kaufman," he says. "Others think Rocco is cool because he is giving it the "man!" But I think there is a big difference between his incoherent rants and effective challenges to authority."
Smoller says he paid for the documentary out of his own pocket and no Orange school district or Chapman University funds were used. He hopes the video will be used in high school and college social sciences classes. Teachers interested in using the video for their classrooms can contact him at fsmoller@socal.rr.com.