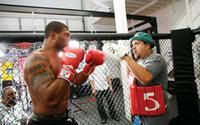 Orange County prosecutors today charged professional fighter Quinton "Rampage" Jackson, the subject of a 2007 OC Weekly cover story, with two felonies and three misdemeanors for a wild July 15 incident in Costa Mesa.
According to Farrah Emami, spokesperson for the district attorney's office, the mixed martial arts fighter crashed into several vehicles and then fled responding police near the southbound 55 freeway and 19th Street. When cops caught up with Jackson, they say he was aggressively weaving through traffic, chatting on his cell phone, accelerating away from officers, slamming into another vehicle, running red lights, driving over a median, terrorizing pedestrians and driving on the wrong side of the road. He finally surrendered on Balboa Boulevard in Newport Beach, according to Emami.
Jackson, an accomplished 30-year-old fighter with the Ultimate Fighting Championship association and Irvine resident, is out of custody now, but faces an Aug. 28 arraignment and a possible $25,000 bail in Orange County Superior Court. If convicted, Jackson faces as much as three years in prison.
He once appeared in an episode of Jackass.
— R. Scott Moxley / OC Weekly