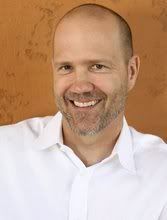 William Lobdell, a veteran investigative reporter/editor in the Orange County wings of the Los Angeles Times media empire until he took a buyout last month, launched LOBDELL'S OC today. Lobdell says his blog will focus on news and observations concerning OC, but his inaugural post provided dark, if noteworthy, comments about the state of print journalism.
"The idea that your daily news is collected, written, edited, paginated, printed on dead trees, put in a series of trucks and cars and delivered on your driveway—at least 12 hours stale—is anachronistic in 2008," wrote Lobdell, who spent 18 years in various posts, including investigations, where he excelled. "As a friend told me last week, 'Bro, face it. You guys are the 8-track cassette of news.'"
And he doesn't have kind words for his old bosses' business acumen.
"Newspapers were unbelievably slow in embracing the Internet, even though younger reporters have been pleading with their bosses for years to embrace the Web," he wrote. "Amazingly, it took until 2005 for top editors at the Times to realize the Internet not only wasn't going away, but might lead to the demise of newspaper."
He says Sam Zell can't be blamed for the demise; he blasted what he saw as a lack of newsroom ingenuity at the paper.
"For a news operation filled with journalists with a mostly liberal bent, few people embrace the kind of progressive change necessary to save, or at least delay the fall of, the franchise," wrote Lobdell. "We [in the editorial department] operated as though we had a monopoly on truth and great journalism for far too long. We didn't listen to our critics and sometimes our readers. That cost us."
To read all 42 interesting points in Lobdell's manifesto, go here.
Reminder: Lobdell's Losing My Religion: How I Lost My Faith Reporting on Religion in America is set for sale in early 2009.
Also don't forget to visit ex-Times OC staffer Roy Rivenburg's site, Not the LA Times.
— R. Scott Moxley / OC Weekly