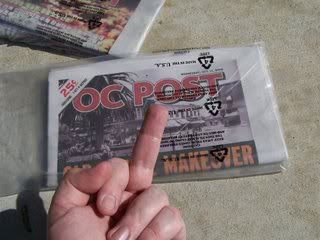 Almost missed this, but it looks like OC Post, the Register's laughable, pathetic attempt at reaching the county's commute-by-subway crowd (uhhhh…) has mercilessly been shotgunned through the skull.
Mostly, anyway—it's apparently going to be merged with the Reggie's throwaway "community news" rag the Irvine World News in February, making the Post an Irvine-only pub. In other words, it'll become as much of a forgotten bastard stepchild as SqueezeOC, which also crashed and burned and now only exists as a skeletal, web-only presence that even the Reg seems embarrassed about—go ahead, hit up the Reg's website, and just try to find the microscopic link to Squeeze's maggotty corpse.
The Reg sank some $20 million into this rancid joyride, a brainfart of former publisher Christian Anderson, who was rightfully canned a few months back. But what we wanna know is: who was the dipshit responsible for approving those pathetic, reader-insulting "Cut to fit Your Life!" Post TV commercials—especially the one with the 15-second Shakespeare play that tried to convince people that 15-second Shakespeare is a good thing?
Anyway, here's the official Reg story. Here's a blog about the Post's death by former Reg editorialist John Seiler. And here's a pissy thing I wrote on my personal MySpace blog not long after the Post's premiere issue in August 2006, when they were desperately trying to get people to pay $19.99 for a year's subscription. For CRAP.
Wonder what'll happen to all those red metal Post newsracks littering the county?