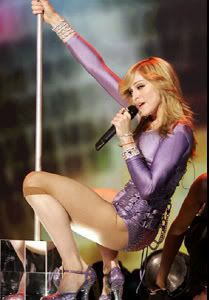 Tomorrow in Los Angeles, none other than Madonna will be holding open auditions for dancers. If you think you've got skillz, here is the information:
MADONNA: UPCOMING PROJECTS
DIRECTOR: JAMIE KING
RATE: PROFESSIONAL PAY
DATES OF WORK: APRIL 2008 – TBD
THURSDAY, MARCH 6:
MEN N WOMEN DANCER AUDITION
FRIDAY, MARCH 7: CALLBACKS
DESCRIPTION:
Please bring 2 pictures N resumes. Looking for strong N versatile dancers. Be prepared with everything from knee pads to different shoes… Should be comfortable doing most any style of choreography. Dress: look good hot, and able to dance.
DATE:
Thursday, March 6, 2008 – MEN AND WOMEN DANCER
AUDITION TIME:
1:00pm – Female Dancers Bloc
6:45pm – Male Dancers – bloc
LOCATION:
Thursday – March 6, 2008
Foresight Studios
3501 West Sunset Blvd. (big cross street is Hyperion)
Hollywood, CA 90026
323-664-7900
STREET PARKING
DATE:
Friday, March 7, 2008 – CALLBACKS