I wasn't quite sure what to expect as my shoes scuffed over the wet asphalt toward Kat Von D's first annual MusInk tattoo and music festival on Saturday. But at the very least I figured as long as I didn't walk out of there with a black eye or a tramp stamp it was gonna be a good day.
The trail of cigarette smoke and fishnet stockings led me to to the front entrance. Despite the biting wind and the sprinkles over head, the tunes blaring from the KROQ DJ booth and hoards of anxious ticket holders helped lighten the mood while the yellow-shirted safety police checked my bag.
I walked into the festival to find quite a setup; the place was packed by the entrance of the main tattoo hall as a diverse mix of tatted punks, cholos, hip hoppers and decked out pin-up girls crossed paths with eight dollar beers in hand. If nothing else, this was the kind of scene that could make anyone appreciate of the over-lapping appeal of tattoo culture. However, I imagine most of the guys there were busy appreciating the sea of under-dressed femme fatales proudly displaying their. . .tats for all to see. Overall, it was a pretty mellow scene outside. I would have planted myself out there longer if the wind wasn't such a frosty bitch that afternoon.
]
Inside the main tattoo hall, a blood red carpet stained the floor at the foot of over a hundred booths filled with about two hundred artists from all over the U.S. and countries as far as Japan. Since this was my first tattoo expo, nothing prepared me for the shrill buzz of needle guns that greeted me as I swung open the glass entrance door. It sounded like a legion of mini wind-up Harleys being revved up one after the other. I wasted no time in taking a look around.
As I shuffled between the aisles, shiny bald heads showed off shaded traditional portraits, psychedelic clowns from hell and a million other skillful and not-so-skillful designs. Sharp needles fired away under the fluorescent lights as paying customers offered their flesh to the hands of known artists like Rick Walters, Bob Tyrell and Adam Foreman.
Even though tattoos were the main draw of the day, there were plenty of other things for those willing to abuse their wallets instead. Across from the tattoo expo was a makeshift mini mall crammed wall-to-wall with novelties, rockabilly threads, Mexican wrestling masks and local t-shirt vendors. At the back of the mall, guys were lining up to get an old fashioned clip courtesy of the tattooed hands of Hawleywood's Barber shop.
If you weren't looking for a t-shirt or a shave, you could satisfy your sweet tooth with some questionable candies from Insanely Sweet, a candy vendor showcasing the best in genitalia shaped treats. Co-owner Lance Browning aroused plenty of curiosity with his sugary batch of tits, cocks and chocolate-filled asses mounted on sticks for easy travel.
Back by the tattoo hall, there were several jaw-dropping BMX bike demos courtesy of Team Soil. Wowing crowds with back flips, 360s and other ramp antics were Branden Dosh from Michigan, Michael Clark from Fountain Valley and Canadian Chris Hughes. This rowdy bunch of young talent, managed by Ryan Brennan, was definitely one of the highlights of the festival.
One of the definite lowlights of the festival was the line of people that jammed up the aisles waiting for Kat Von D to show up for photos and autographs. Clusters of fans sporting shirts with Von D's High Voltage Tattoo logo had been gathering since one or two o'clock just to see the inked vixen. She didn't show up until about six, at which point the tattoo hall turned into a tabloid circus with a vibe off-putting enough to make me nauseous. But in addition to being gaunt, gorgeous and ghostly white, the L.A. Ink starlet did seem really down to earth and appreciative of her fans for whom whom she braved the flashing bulbs for numerous pictures.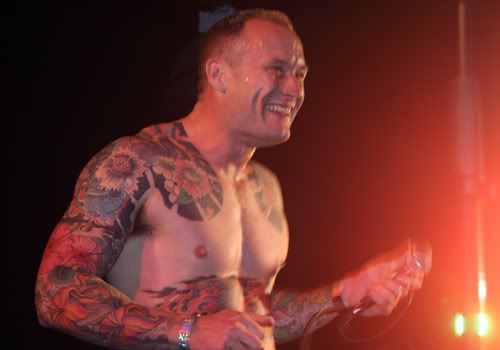 Despite all the pandemonium going at the foot of the Von D, the real action was taking place at the concert hall with a great psychobilly lineup that gave us Throw Rag, Guana Batz and Tiger Army in one night.
Fire orange flood lights exploded like bomb blasts onstage as Captain Sean Doe, Throw Rag's volatile lead singer, shucked and jived with tattoos blazing, backed by guitarist Dean McQueen, bassist Franco Fontana and drummer Chango Von Streicher in a performance reminiscent of Igyy and the Stooges. And by that I mean Doe was pretty much naked onstage by the time he was done. At least kept his thong on.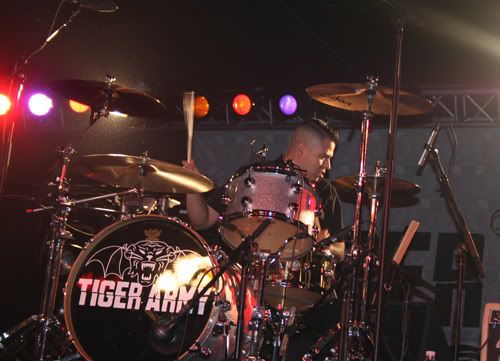 British pshycobilly legends Guana Batz were second on the bill but did their damnedest to give a first rate performance. Pip Hancox was definitely in top shape as he pranced and whipped around the stage. I have to admit having never seen the Guana Batz live, I never thought a muscle bound guy with a chest and back full of tattoos would move around like that with such abandon. Maybe it's because half of the guys that looked him at the festival had a major stake in looking tough and dull. The fans were definitely grateful for every tune, including sweaty classics like "Street Wise," "Radio Sweetheart," and even a cover of Led Zeppelin's "Rock'n' Roll" that warranted a massive sing-along from the whole audience.
Obviously the biggest shoulder-to-shoulder crowd showed up for Epitaph/Hellcat Record headliners Tiger Army. Reunited with stand up bassist Geoff Kresge, this tattooed trio gave fans a taste of old and new material with the hard-edged romantic energy that drives most of their best stuff. Frontman Nick 13 hammered out songs like "Cupid's Arrow" and FTW (Fuck the World) along with newer tracks from their album Music From Regions Beyond. One of the peaks of their performance for me was the sea of fist pumping action in the crowd during the song "Never Die." Tiger Army came back on for an encore and delivered two more songs to show their love for diehard fans who have carved out a haven for the band in the OC.
The concert ended and people filed out of the festival while a few stragglers sat in the tattoo hall getting some last-minute ink before coming back on Sunday. I was so hot from the show that the midnight cold didn't even register on my skin. Midway through my trudge back to the car, a smile crept up on my face as I headed out to the parking lot with my lower back and both eyes still intact.