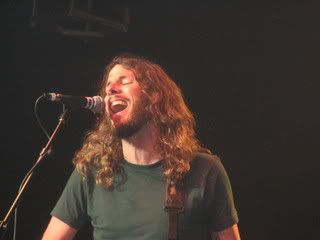 In the decades since the sounds of ska infiltrated Orange County, the local music scene has definitely gone through some changes. Live music junkies have been left to fend for themselves in a sea of emo, screamo, hardcore and other intricately titled audible slop.
But last night at The Grove in Anaheim, things were sunny side up again. Ska legends, The English Beat, were good enough to drop in and give us a taste of what we've been missing. Add to that a brilliant set by progressive ska heroes, Rx Bandits, and you've got yourself a real fine show.
Before either band took the stage, the scene on the front patio was alive and kicking. But mostly, they were trying to stay warm under the outside heating lamps. Clusters of sharp dressed teens in black vests, thin neckties and trilby hats fumbled around in front of the outdoor side stage where a Long Beach ska band hammered out a solid brass wailing set that got plenty of attention.
It was great to see the diverse all-ages atmosphere of 'Beat fans old and new. It kind of looked like a bunch of parents and their skanker kids sneaked out of the house and wound up bumping into each other at the same show.
Rx Bandits took the stage around 8:30 p.m. to a pit of rabid fans. The band has always been known for their dynamic live show and last night was no exception. Matt Embree (vocals/ guitar), Steve Choi (guitar), Joe Troy (bass) and Chris Tsagakis (drums) ignited their audience with some of the best stuff from their last three albums.
Within a few songs, a swirling, sweaty circle pit was causing some of the older folks to either back up or break a hip. Blue and red strobe lights exploded like bomb blasts on stage during songs like "Sell You Beautiful," "In All Rwanda's Glory," and even the ghostly rhythm of "Apparition." The band capped their set with a fire storm of guitar riffage during the song "To Our Unborn Daughters." By the end of it, anyone who had never heard the Bandits before should have cleared some space on the floor near them to bow down.
Though it seemed like almost an hour before English Beat got all seven members on stage, they were greeted accordingly with a solid roar from two generations of fans. Those that came to claim rude boy or rude girl status had plenty of reason to dust off their best two-step.
When it came to having fun, rambunctious toaster "Antonee First Class" didn't take no for an answer. The loud call and response energy he drained from the crowd had the vibe of a stadium hip hop show. Classic lines like "how many ladies want to have my two-tone babies" pretty much cemented his emcee credibility that night.
While English Beat's original front man, Dave Wakeling, had gained a few pounds since the '80s- so had most of the fans in the audience so I don't think anyone really noticed. Bellies aside, the guy can still put on one hell of a show. Backed by members Rythmm Epkins (drums), Wayne Lothian (bass/vocals), Fernando Jativa (saxophone) "Joffee" (lead guitar/ vocals) and Ray Jacildo (keyboard) the band never lost its footing during a blistering two-hour set that included hits like "Hands Off She's Mine," "I Confess" and "Mirror In The Bathroom" to name a few.
The band really brought the house down with their '80s anthem "Tenderness." Actually it was more like they brought the house up. By the time Wakeling had strummed the first few chords of the infectious pop song, over a dozen women were high-stepping, hip shaking and grinding random objects on stage. A few of 'em looked like soccer moms but hey, cougars should be allowed to have a little fun too- just as long as their kids are tucked in bed somewhere. The show didn't end until 1 a.m. At least for one night, the good old old days of ska were alive and well.
View photos of the event here.
Nate Jackson is the gatekeeper to your dreams of local dive bar stardom. If he writes about you, expect your band to be offered at least one more drink ticket than the rest of the bands on the bill. Get his attention with some groovy tunes and he might just do it. Then, boy will you feel special.