Better than: A ride on Space Mountain
Anyone who's seen The Black Keys at least once knows that a packed house filled with blues and body heat usually comes standard. And as I swung open the door to the House of Blues to find an audience crammed in like a can of sardines, I knew I was at the right concert. Last night, The Black Keys stopped in Anaheim during their U.S. tour, brining with them Grand Ole Party, a three pack of big beat rockers from San Diego.
By the time I got a good look at the stage, the show was in full swing with all eyes fixed on Kristin Gundred of Grand Ole Party. The band's sound was a powerful puree of pop energy fueled by sharp beats and the boundless talent of Gundred who sang like a pro while playing drums. As I walked around, I heard whispers of people trying to put their finger on the band's sound. Bands like Rilo Kiley, No Doubt and Yeah Yeah Yeahs were being tossed around quite a bit, which I pretty much agree with. But, Grand Ole Party definitely brought a much more mature, dark and cynical side to their music than the bands used to describe them. Not to mention Gundred's voice had a lot more range and power than any of those bands.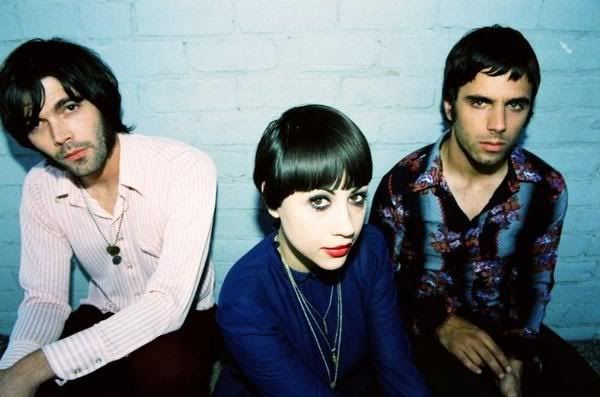 Backed by guitarist John Paul Labno and bassist Michael Krechnyak, GOP powered through most of there set and did their best to win over the crowd. One thing that definitely stalled their momentum was a never ending battle with Labnos busted guitar strings that even brought things to a dead halt a couple times. I couldn't believe he was going through strings so fast, it's not like he was chugging metal riffs all night.
But once they got back on track, the band finished strong with the song "Look Out Young Son" as Gundred's voice carried all the way through, quivering with power and emotion. Hopefully, since the tour is just starting, the band can work out the bugs in their performance early so they can really rock out the rest of the tour. Honestly, I can't wait to see them when they come around again.
The body heat in the crowd gradually started to accumulate as more and more fans filed in to watch the down and dirty blues rock of The Black Keys. Even as a duo, I'm always surprised at the explosion of sound that comes from the stage when they play.
Finally after about a 30 minute wait, the curtains parted once again, producing Pat Carney riding his drum kit high on a raised platform with the scraggly bearded Dan Auerbach beside him. The crowd swelled up their praise as the duo launched into their set classic Keys style, with merciless drumming and guitar antics. I noticed that they gave the fans some great blasts from the past, including the balsy guitar work of "The Breaks" a track from their first full length "The Big Come-Up". Over the course of their set, the band delivered big riff in their arsenal. And it always gets me how after every song, Auerbach and Carney give the crowd genuine thanks for coming out to see them. That kind of humble "awe shucks" attitude is probably one of the things I like most about them, especially after seeing row after row of rock stars prance around stage like the crowd should be lucky to see them.
Auerbach delivered some great stuff from other albums like "Set You Free" and Everywhere I Go" from the "Thickfreakness" days, "Till I get My Way" from the "Rubber Factory" album and also some newer gems from the Danger Mouse inspired effort "Attack and Release". I liked how the band improvised on the song "Strange Times" by cutting out the keyboard parts on the chorus in favor of keeping things strictly drums and guitar. After shredding for about an hour or so, the band left the stage momentarily and came back for an encore, blasting us with a couple more songs, finally concluding with "Psychotic Girl" to the wild applause from the crowd. In the sweaty darkness, the feeling that comes from watching that kind of reckless abandon on stage is the stuff that makes every kid want to pick up a guitar.
Critics Notebook
Personal Bias: Chick singer/drummers are awesome, even if they do wear Brittney spears microphones while they play.
Random Detail: I ended up seeing a bunch of people I knew at this show, even though I went by myself.
By the Way: If you can catch Grand Ole Party live…you should.