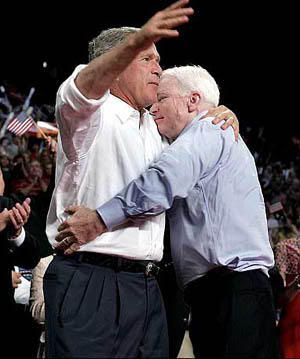 Republican presidential candidate and war-lover, John McCain, will be in our neck of the woods tomorrow to rub elbows (raise money) with the rich folks whom he will help make richer if he takes office in 2008.
McCain's meeting with the GOP big bucks will take place at the Island Hotel in Newport Beach where they will drink wine, eat bite-sized pieces of cheese and discuss whether McCain has discovered the difference between the Sunni and the Shi'a yet. Our money is on no.
Meanwhile, OC's Young Democrats will be outside picketing the event and urge others to join in on the fun. If interested contact Carlos Camacho at Carlos@oclabor.org or at 714-385-1534 or just show up with a sign at noon. The hotel's address is 690 Newport Center Drive, Newport Beach.