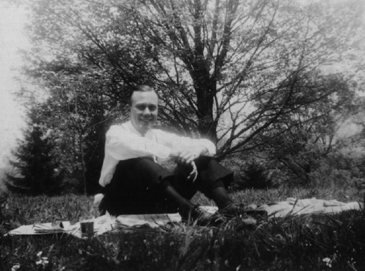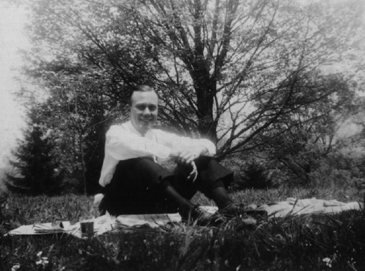 In 1957, a student named Keith Waldrop found a mysterious book called In Sara, Mencken, Christ and Beethoven There Were Men and Women written by a mysterious man named John Barton Wolgamot. It was a book of names:
Blue cloth binding: four and three-quarter inches tall by seven and three-quarter inches wide. Published in 1944. The right margin is unjustified in a way that suggests verse-but it is clearly prose. The first thing one notices, opening the book, is clusters of names-names of men and women, most of them writers, many well known. But then, even more striking, it becomes obvious that each page contains only one sentence, and it is always-except for the names-almost the same sentence.
Slowly Waldrop and friends would conclude that Wolgamot's book was one of the greatest lost works of the 20th century. Ubuweb has two essays detailing this history. Here are the full articles and below is a fragment:
We can hardly understand today the depth of a commitment to such a project. It makes Wolgamot seem a mad man. Wolgamot was not a mad man. He was one of the sanest and most visionary persons I have ever met. But he lived and worked during a time and in a place where such a commitment was the only possible expression of his genius. All over America, before we became homogenized by the media (and by the ability to travel!), people lived in loneliness and dreams. This was a new people. And especially in the vast (endless) Midwest, where the European-Americans were cut off from their roots, a "civilization"-that is, a collection of memories that make sense of the present-had to be invented.

I have seen this invention in many forms, and indeed most of the forms were a form of madness: the "collectors." (Example 1: A tiny town in Wisconsin where my car broke down and I spent a few hours in the "museum"-admission 25 cents. A huge shed, probably formerly a commercial chicken coop, filled with hand-made boxes about 18 inches in each dimension, with a glass front, stacked six feet high, each box containing every kind of thing the collector had collected in his life-matchbook folders, safety pins, pieces of broken glass, breathtaking banalities-each item elaborately labeled and dated. Hundreds of boxes. A history of civilization. Example 2: A woman with a house full of cheap ceramic carnival prizes-Mickey Mouse, vases, dinosaurs, etceteras, which were put out on the lawn every morning in a new display, a new configuration, and taken in every night and cleaned and polished.) These museums existed in the hundreds. Everybody could tell me about their favorite one. I thought for a moment that I should specialize in this history of America, and make a museum of museums. But of course I couldn't. I think they are all gone now. Still we do not have a civilization, but the museums of memories are gone.
More here. And here is Robert Ashley's sound piece based on Wolgamot. CD re-issue of Ashley's piece here and WFMU interview with Ashley and Waldrop here.