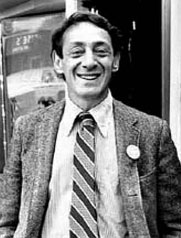 This past Tuesday night at the Edwards South Coast Village in Santa Ana, and an Orange County Film Society-sponsored advance screening of the new Gus Van Zant-directed, Sean Penn-starring Harvey Milk biopic, simply titled Milk.
Go ahead and Google the name if you must — it's not like Harvey's story is getting taught in public schools — but some background info is in order here. Harvey Milk was the first openly gay person to win an elected office in the United States, a seat on the San Francisco Board of Supervisors, in 1978. Months after his election, he and then SF mayor George Moscone were shot and killed by Dan White, a troubled fellow supervisor who got elected on a family values platform.
Yeah, I'll just say it — if White were still around today (he suicided in 1985; don't rest in peace), he would've voted Yes on Prop 8.
But back to the movie. I wondered going into this how Van Zant was going to present the then-raging controversy that surrounded Proposition 6, a statewide ballot initiative in 1978 that was chiefly sponsored by then-Fullerton state senator John Briggs. Lest you think the recently-passed Proposition 8 is extreme, Briggs' Prop 6 would have banned gays and lesbians from teaching in public schools. Not only that, but it also called for the firing of all straight teachers who dared voice any support for their gay colleagues. Briggs' amendment was defeated—but not by much.
(See, this is why I've always thought it's a batshit-crazy idea to let the public make laws through the initiative process.)
OK, OK, back to the the movie for sure this time. So the theater is packed, and Denis O'Hare, the actor playing Briggs, is playing the part of Stereotypically Orange County Republican Conservative Christian Right-Wing Asshole to the hilt. There's a scene in which Penn (as Harvey) and his staff are hearing about Prop 6 for the first time, and they're about to decide what to do about it. What followed got the biggest laugh of the evening. Here's the exchange, lifted from the Milk script, which you can download yourself right here.
=====
ANNE KRONENBERG: Not great. State Senator John Briggs is Anita Bryant's go-to guy in California for sure. He's filed his petition for a statewide referendum to fire all gay teachers and anyone who supports them.
[A pall falls over the room. This is worse than expected.]
HARVEY MILK: How many signatures will he need to qualify for the ballot?
CLEVE JONES: Whatever. He can get them in two Sundays at church in Orange County.
=====
Cleve Jones, a longtime friend of Harvey's, is played by Emile Hirsch, but when Hirsch delivers the line in the film, he says "Orange Fucking County."
Later, there's a scene in which Briggs and Harvey are debating Prop 6, and the word FULLERTON flashes on the bottom the screen. I never knew there were Briggs/Harvey debates over Prop 6, much less one that happened here, on Briggs' home turf. (Wonder where the actual debate took place; I'm guessing Cal State Fullerton.)
The whole movie? Pretty great — one I'll buy for sure, instead of just ripping a copy from my Netflix queue. Look for a full review in this Wednesday's Weekly (that's right — we're out a day early on account of Thanksgiving), same day the film opens.