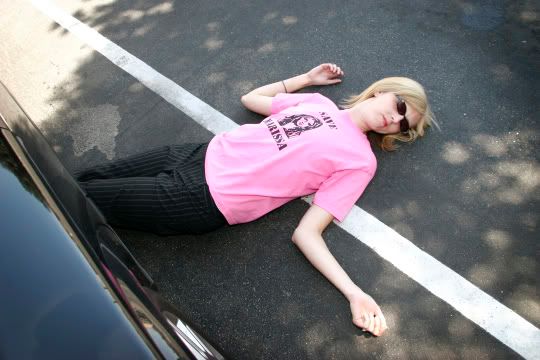 From Weekly staffer Kater Perez (shown here getting Marissa'd):
Should we consider it a charitable cause—like Save the Whales and Free Tommy Chong—or a desperate cry for sanity from nighttime teen soap opera junkies who can't stand the thought of losing a favorite character? Whatever it is, the folks behind SaveMarissa.com and SaveMarissaTshirt.com are on a mission: to save Marissa Cooper, or rather, save actress Mischa Barton, who plays Marissa, from her demise on Fox's The O.C.
Last season's cliffhanger horrified Mischa fans the globe over when lovely Marissa apparently died in her Chinoan true love's arms after a fiery car crash. There has been a resulting international outcry to bring Marissa back to life, be it by a heavenly miracle, a J.R. Ewing-type dream-sequence or good old fashioned black magic. To that end, t-shirts adorned with Mischa's/Marissa's mug are must-have fashion pieces for true blue (orange?) O.C. fanatics–bringing to mind the Free Winona tees that accompanied long-forgotten actress Winona Ryder's shoplifting woes.
Why dump Marissa—and not, say, her Cruella-esque mumsie Julie—has lit up the message boards. Rumors are that Mischa wanted to leave TV to pursue the big screen, that she wasn't being paid what she thought she was worth and that show creator Josh Schwartz simply wanted to shake things up as the once mighty soap's popularity has started to wane. No one's telling and now that many of next season's shows are already in the can, it'll only be a matter of time before we know if the Save Marissa campaign worked.
Does it even matter? Having never once watched The O.C., I can't even tell Mischa and Marissa and Peter Gallagher apart. But if there's a petition, I'll sign it. If someone's taking a collection, I'll throw a couple bucks in. And if there's a t-shirt to wear, I'll sport it. Guess I'm just a sucker for charities that way.